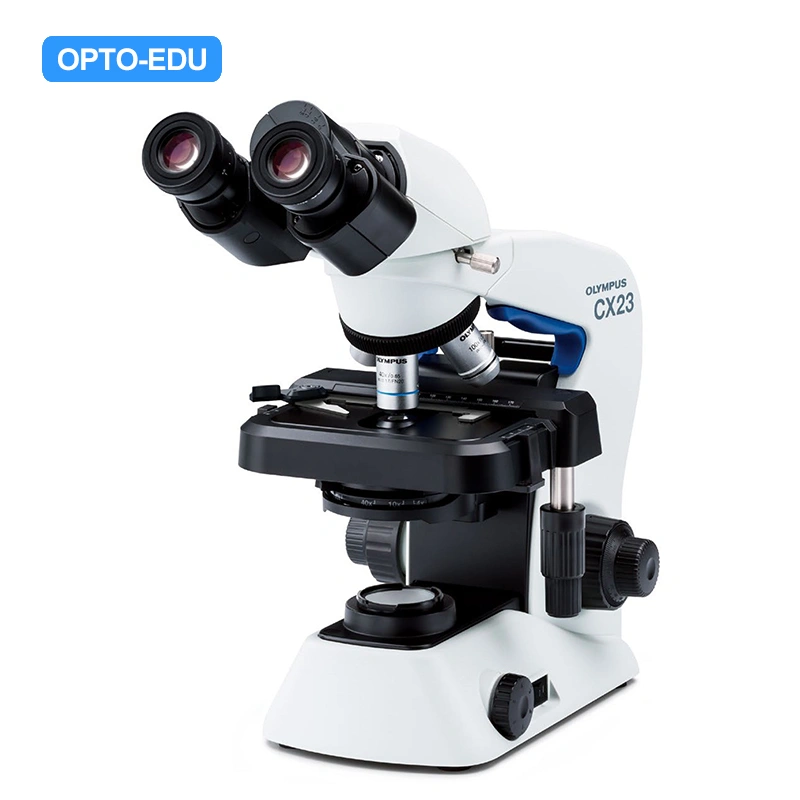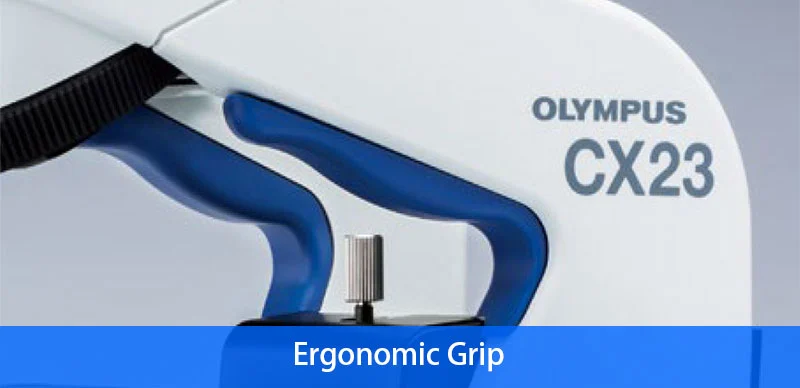 • Ergonomic grips add safety when retrieving the microscope from high places.
• Colored grips indicate the appropriate places to hold the microscope.
• Smooth, rounded design eliminates sharp edges.
• The CX23 microscope is one of the lightest in its class, with a total weight of approx. 5.9 kg (13.01 lbs).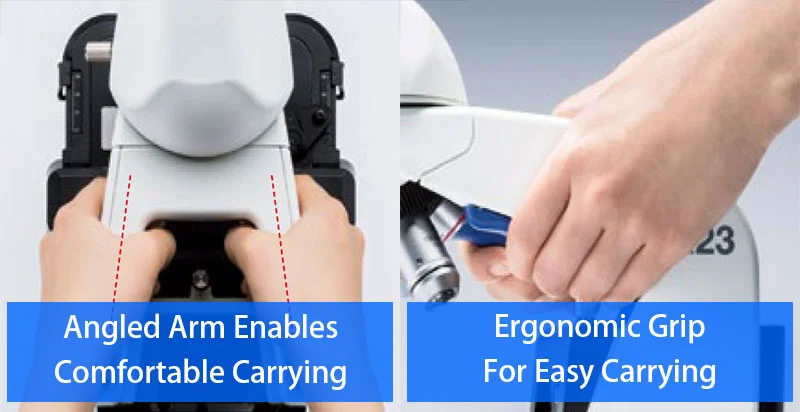 • The arm is angled to keep users' wrists in a comfortable, neutral position.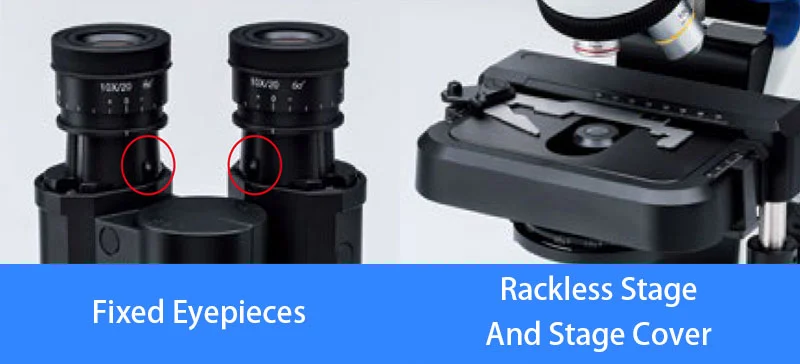 • The eyepiece can be fixed in place to help prevent damage or loss during transport.
• A rackless stage and stage cover enable safety and stability during long periods of use.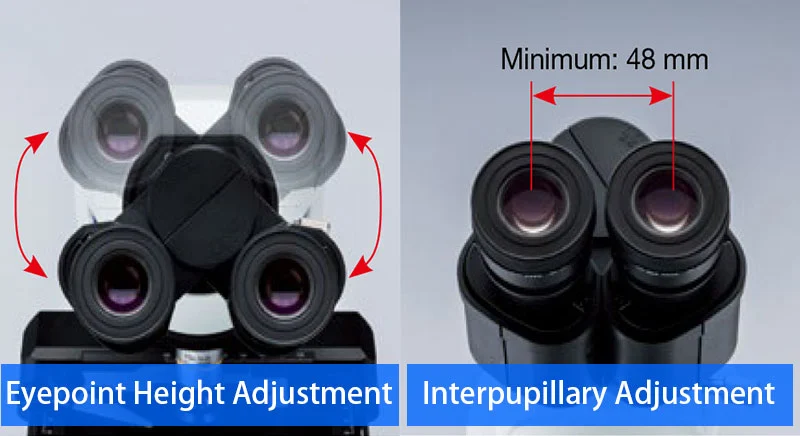 • Interpupillary adjustments, ranging from 48 to 75 mm (1.9 to 3 in.), enables individual users to set it to their needs.
• Eyepoint adjustments accommodate the user's height and provide greater comfort.
• Left and right diopter adjustments enable optimal focus for each eye.
• A storage compartment on the back of the CX23 microscope makes it easy to stow the power cable after use.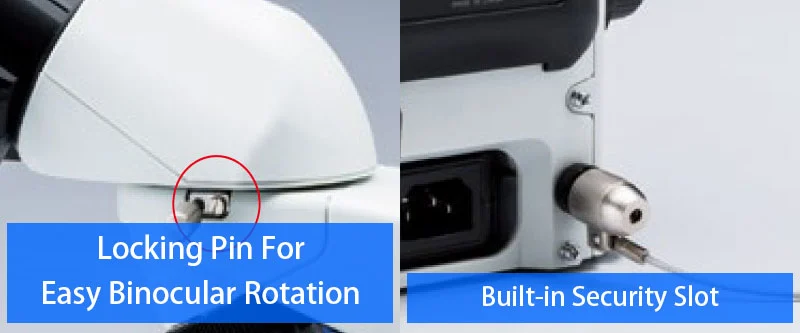 • A locking pin keeps the observation tube in place.
• When the CX23 microscope needs to be left unattended, a built-in security slot enables the attachment of an anti-theft cable.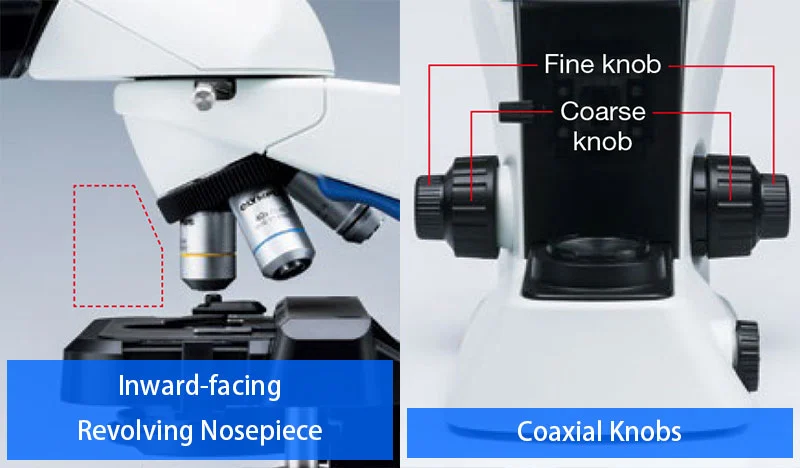 • An inward-facing rotating nosepiece facilitates a larger working area above the stage, enabling easier operation and specimen exchange
or making it easier to apply oil to immersion objectives.
• The CX23 microscope features plan achromat objectives that preserve outstanding image flatness throughout the field of view.
• Objectives with long working distances provide clearance for thick samples and slides.
• Bring specimens into focus quickly by using the coaxial knobs for fine or coarse adjustments.
The microscope is built for durability and precise control, whether accessed from the left or right side.
• A torque release function helps prevent damage if excess force is applied to the coarse focusing knob or stage knob.
• The energy-saving LED light source provides a long operation lifetime of 20,000 hours.
• Daylight balanced LED illumination preserves the vivid colors on HE-stained samples.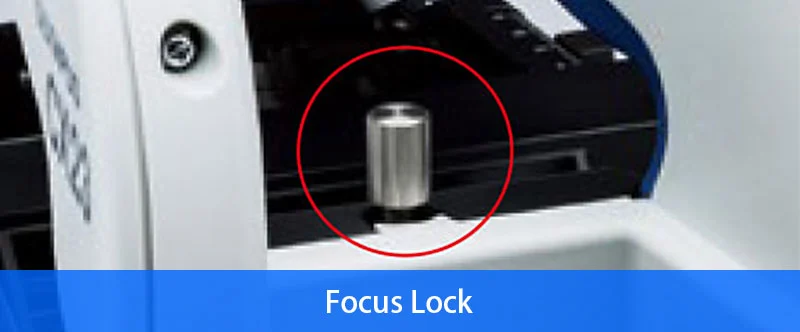 • The focus lock helps prevent the objectives from damaging the specimen.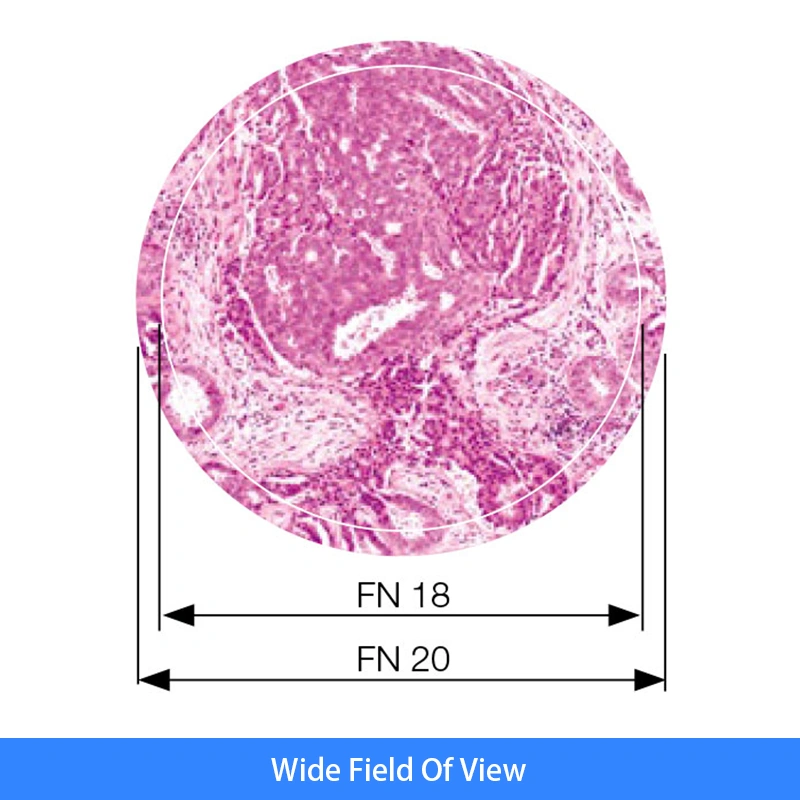 • Field number (FN) of 20 provides a wide field of view.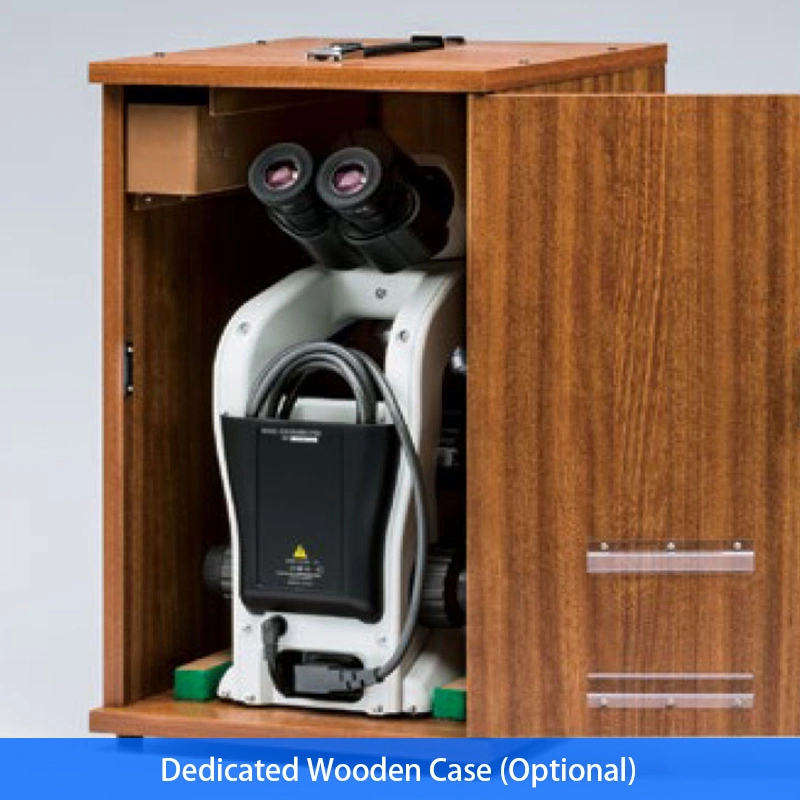 • Protect your investment with an optional custom designed wooden case.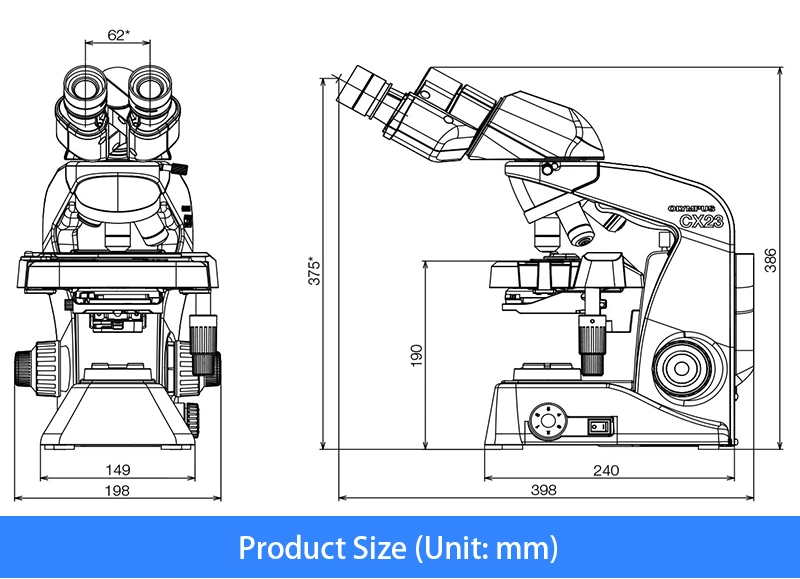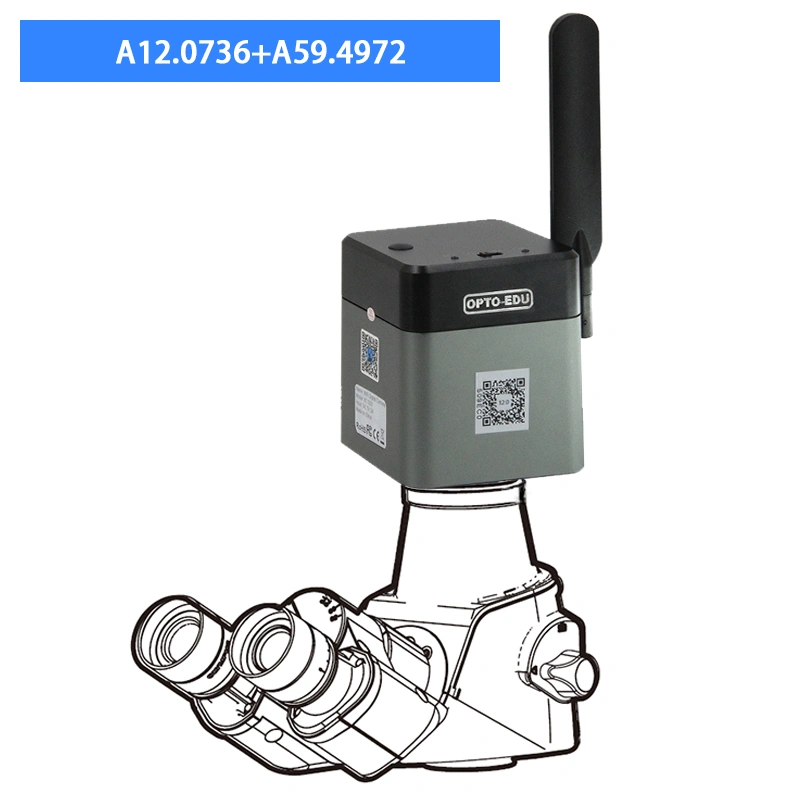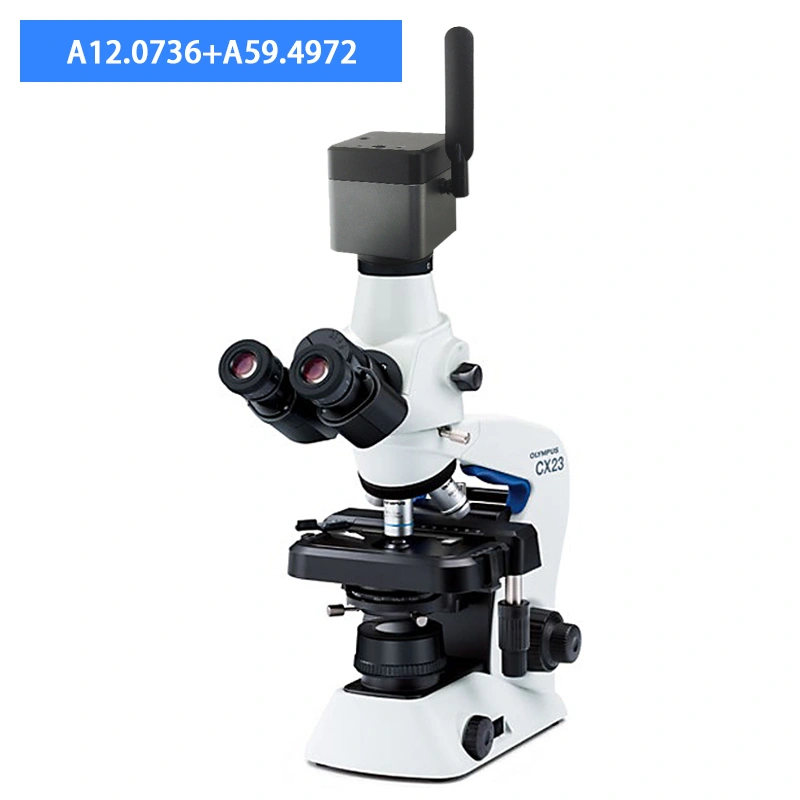 A12.0736 Olympus Biological Microscope, Cx23

-B

-T

Body

Aluminum Die-cast Metal Frame, Protective Plastic Covering

Optical System

Infinity Optical System

Illumination System

Built-in Transmited Illumination System
Led Power Consumption: 0.5 W (Nominal Value)

Focusing

• Stage Height Movement • Coarse Movement Stroke: 15 Mm (0.6 In.) • Coarse Adjustment Limit Stopper
• Torque Adjustment For Coarse Adjustment Knob • Fine Focus Knob (minimum Adjutsment Gradations: 2.5 μm)

Revolving Nosepiece

Fixed Quadruple Nosepiece With Inward Tilt

Stage

Wire Movement Mechanical Fixed Stage
• Size (w x D): 174 mm × 89 mm (6.9 In. x 3.5 In.) • Traveling Range (x x Y): 76 mm × 30 mm (3 In. x 1.2 In.)
• Specimen Holder • Specimen Position Scale

Observation Tube

Type

Binocular Anti-fungal

Trinocular Anti-fungal

Eyepiece (Anti-fungal)

10x Field Number (fn): 20
15x Eyepiece (fn): 12 (Optional)

Tube Inclination

30°

Light Path Selector

None

Eyepiece/Camera Port = 100/0 Or 0/100

Interpupillary Distance Adjusting Range

48 – 75 Mm (1.9 In.–3 In.)

Eyepoint Adjustment

370.0 – 432.9 Mm (14.6 In.–17 In.)

Condenser

• Abbe Condenser NA 1.25 With Oil Immersion • Built-in Aperture Iris Diaphragm

Objectives

Plan Achromat, Anti-fungal
4x NA 0.1
W.D. 8.0 mm
10x NA 0.25
W.D. 27.8 mm
20x NA 0.4
W.D. 2.5 mm (optional)
40x NA 0.65
W.D. 0.6 mm
100xoil NA 1.25
W.D. 0.13 mm (cx23ledrfs1 Built-in, Cx23ledrfs2/rtfs2 Optional)

Optional Accessories

Reflection Mirror (ch20-mm), Eyepiece Micrometer
Dust Cover, Darkfield Stop (ch2-ds+ch2-fh)
Field Diaphragm (cx23-fs)*
Dedicated Wooden Case (ch20-wb2)
Reflection Mirror (ch20-mm), Eyepiece Micrometer
Dust Cover, Darkfield Filter (ch2-ds)

Dimensions (w x D x H)

198 mm x 398 mm x 386 mm (7.8 In. x 15.7 In. x 15.2 In.)

198 mm x 398 mm x 430 mm (7.8 In. x 15.7 In. x 17 In.)

Weight

Approximately 5.9 Kg (13 Lb)

Approximately 6.5 Kg (14.3 Lb)

Rated Voltage/Electric Current

Ac 100 – 240 V 50/60 Hz 0.4 A

 

Power Consumption

Less Than 2 W