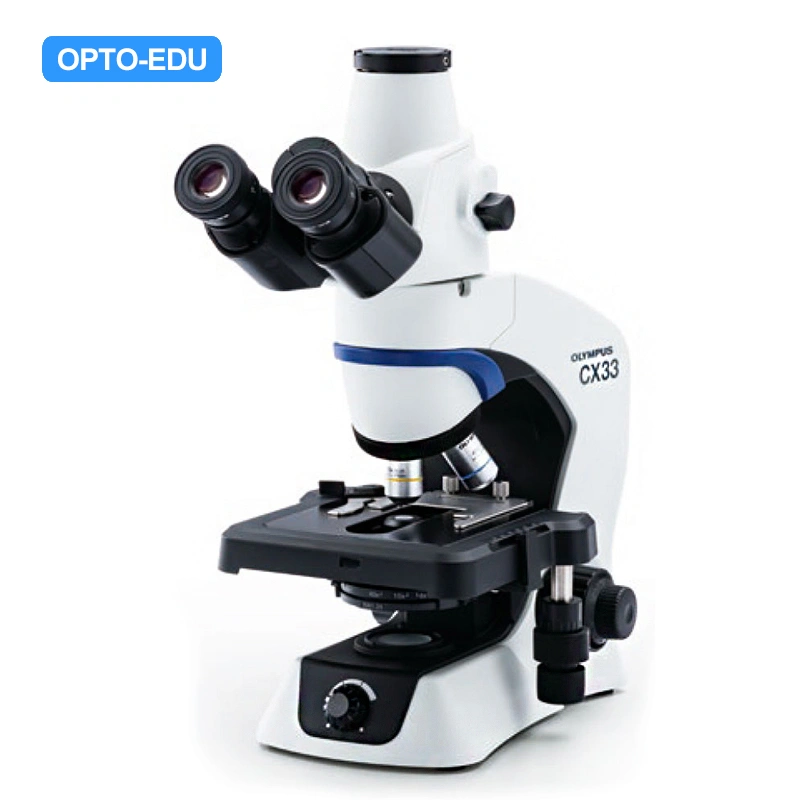 A12.0738 Olympus Biological Microscope, CX33
For less demanding requirements using only brightfield and darkfield, the CX33 microscope is a great option.
The low- positioned nosepiece and stage, focusing lock, specimen holder, and inward quadruple revolving
nosepiece make the it is well- suited for everyday observations in one easy configuration.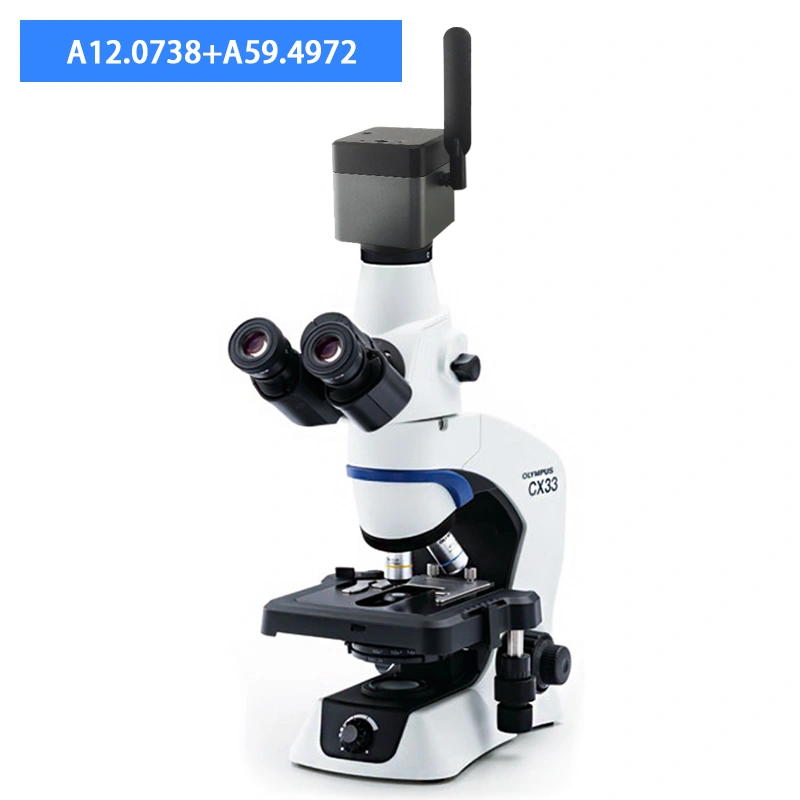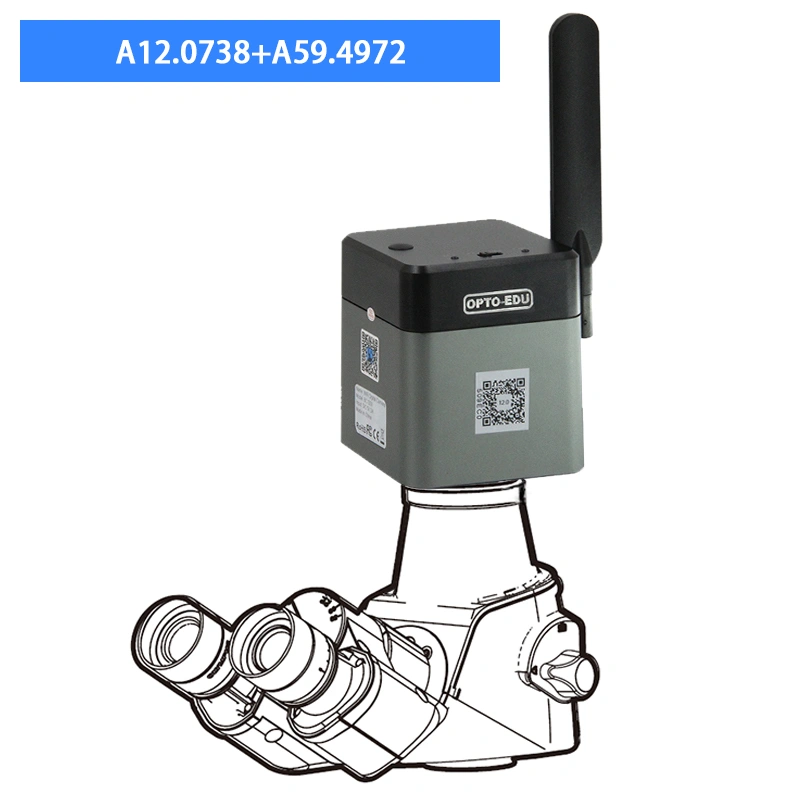 Comfortable for Long Periods of Routine Microscopy
The microscope frame fits comfortably between your hands, and the location of the control knobs help maximize the ergonomics,
improving work efficiency. Users can quickly set a specimen with one hand, while adjusting the focus
and operating the stage with the other with minimal movement. Both microscopes also feature a camera port for digital imaging.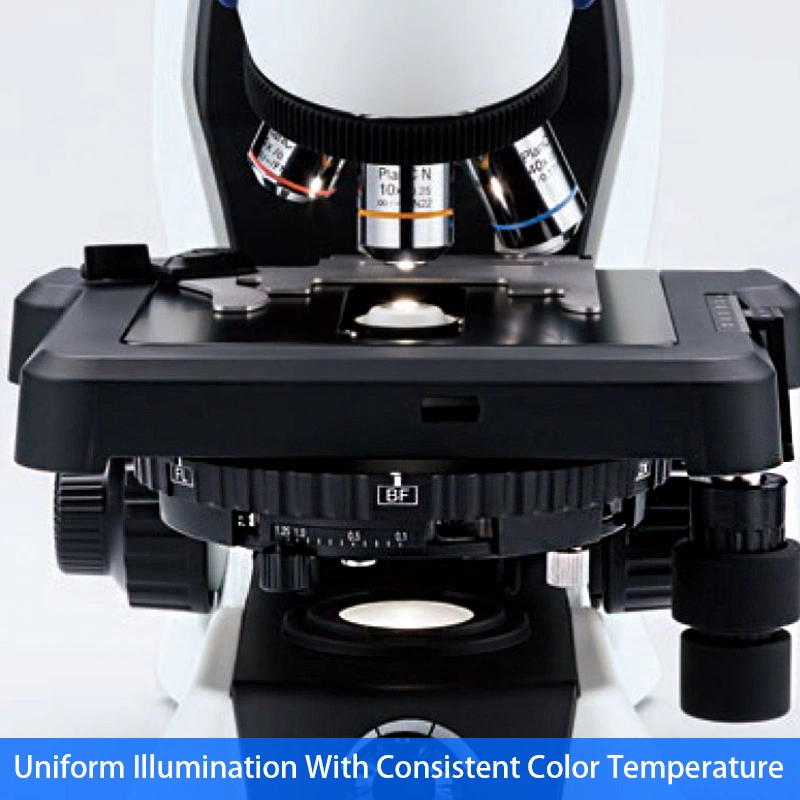 Uniform Illumination with Consistent Color Temperature
The color temperature of the CX LED illumination produces daylight conditions, so specimens can be
viewed with their natural colors. The color temperature is consistent at any brightness, so users don't
have to spend time making adjustments when they change brightness. The LEDs have a long 60,000-hour lifetime,
helping reduce cost, and the brightness level remains stable throughout the LED's life.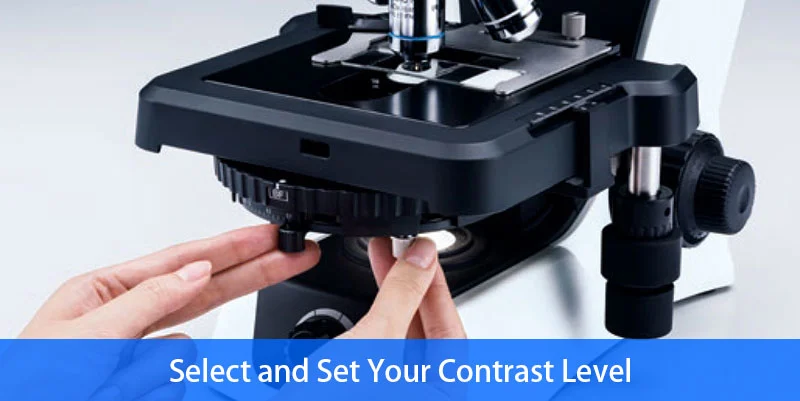 Select and Set Your Contrast Level
Users can preserve their favorite contrast by locking the aperture diaphragm. It stays fixed at
the optimally chosen position if it is accidentally touched while changing slides.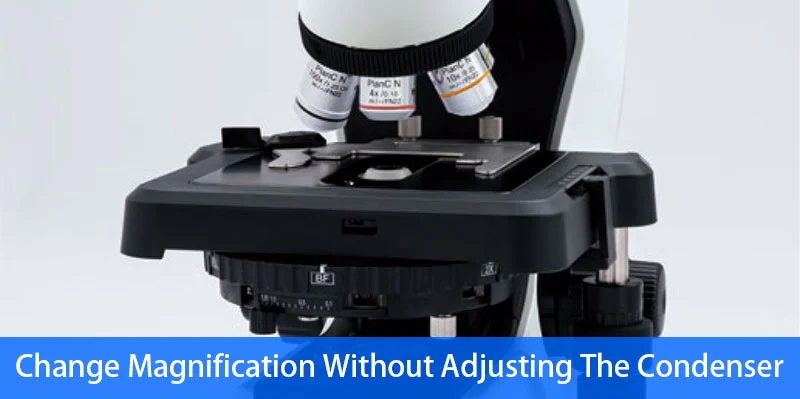 Change Magnification without Adjusting the Condenser
Users can change the magnification from 4X to 100X without moving the top lens on the condenser.
2X magnification is also available by simply setting the objective and the condenser turret to the 2X position.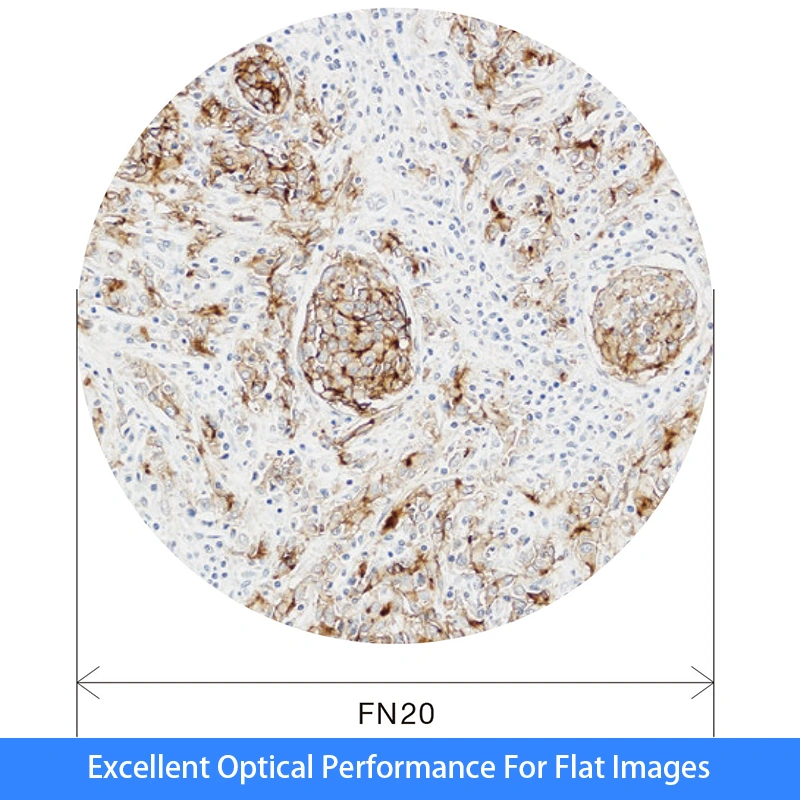 Excellent Optical Performance for Flat Images
The microscope employs Plan Achromat objectives, which provide clear images with high image flatness over a wide field
of view. This helps users view specimens clearly and evenly during routine microscope observations.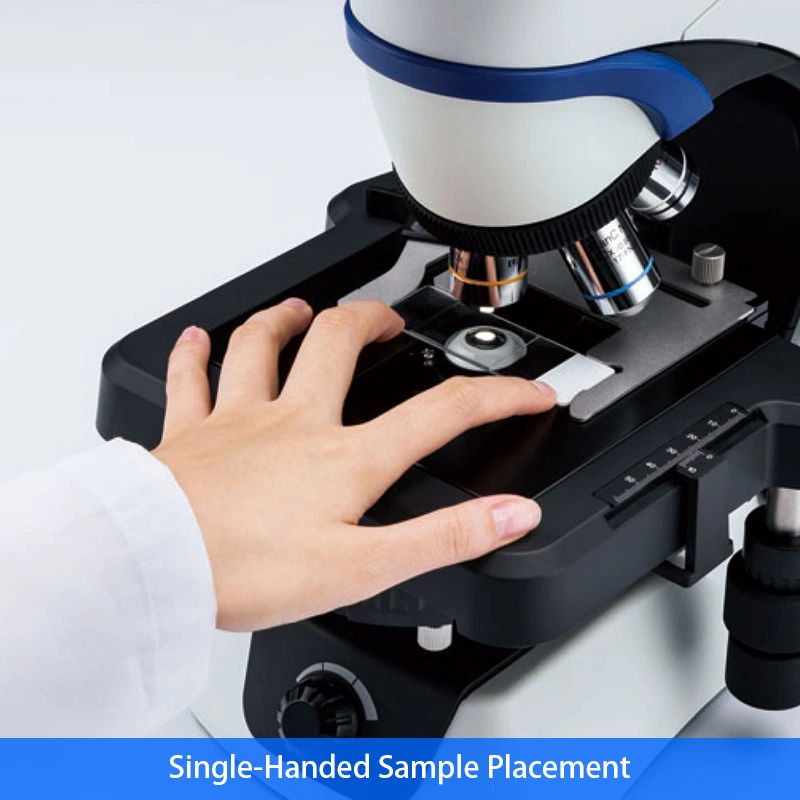 Single-Handed Sample Placement
A specimen can be quickly slid in and out using one hand. The specimen holder opens a little and firmly retains
the specimen during operation. The versatile holder accommodates a variety of slide types, including a hemocytometer.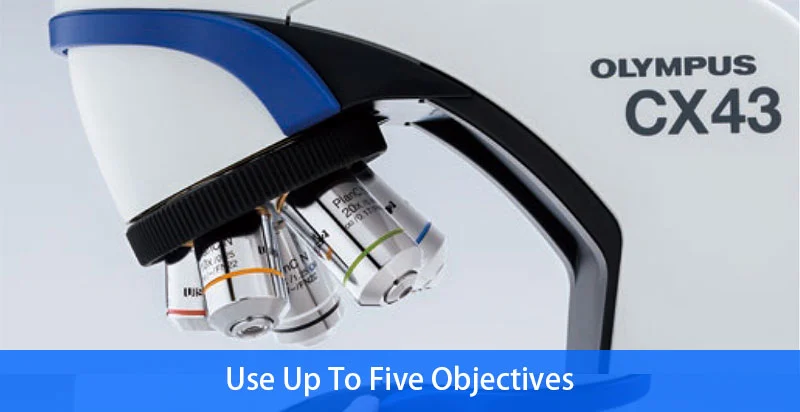 Use Up to Five Objectives
For added flexibility, up to five objectives can be mounted on the revolving nosepiece. In addition to general objectives,
users can select a 2X objective for wide area observation or objectives for phase contrast.
These objectives with long working distances help keep specimens from getting damaged.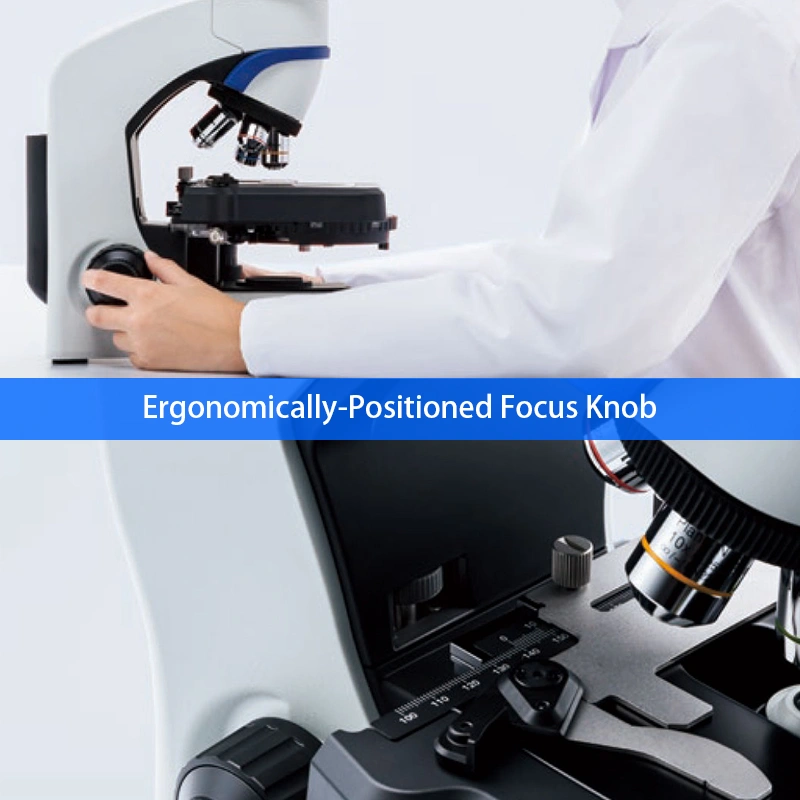 Ergonomically-Positioned Focus Knob
The low-positioned focusing knob enables users to make observations while keeping their hands and forearms resting
on the desk, helping provide comfort. The focusing stopper prevents a specimen from
accidentally hitting an objective when working under high magnification.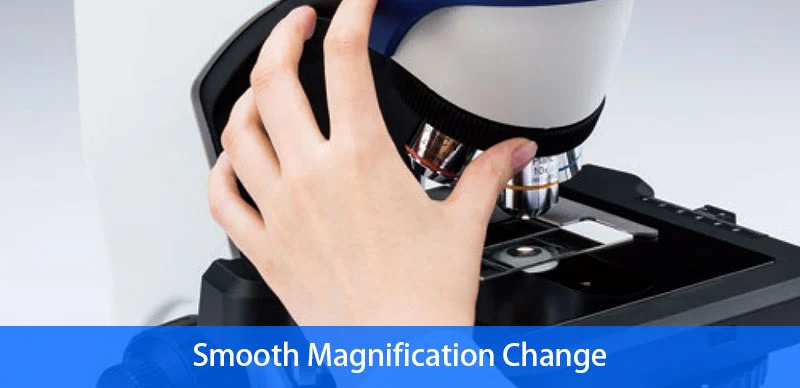 Smooth Magnification Change
The low-positioned revolving nosepiece enables users to quickly change magnifications with minimal arm
movement between focusing, greatly improving work efficiency during prolonged use.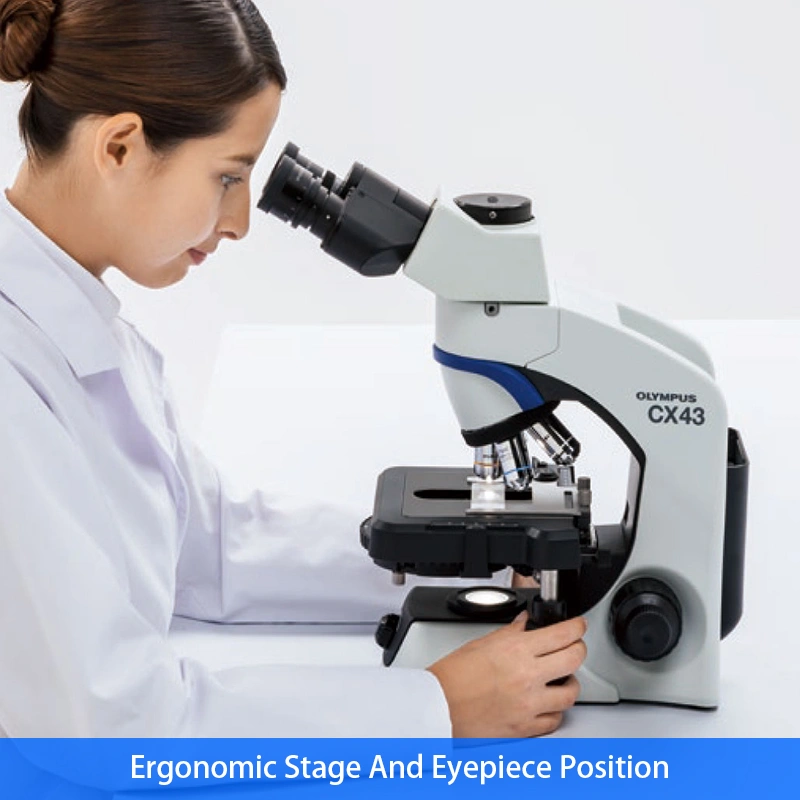 Ergonomic Stage and Eyepiece Position
The low-positioned stage is designed to enhance comfort and reduce fatigue. The stage surface can be widely seen
from the eye point position, which enables users to smoothly set and check specimens on the stage. The stage knob can be
controlled with just a light touch and can be adjusted at the same time as the focusing knob, since they are located close together.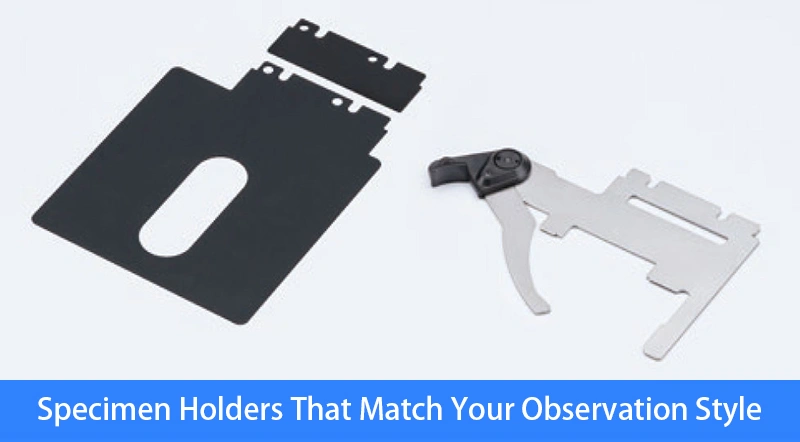 Specimen Holders that Match Your Observation Style
Stage accessories improve efficiency when users need to observe a large number of specimens. With the
specimen holder sheet, a specimen can be freely operated by a finger on the sheet and can be precisely
adjusted using the stage knob. The double specimen holder can retain a large specimen or two specimens.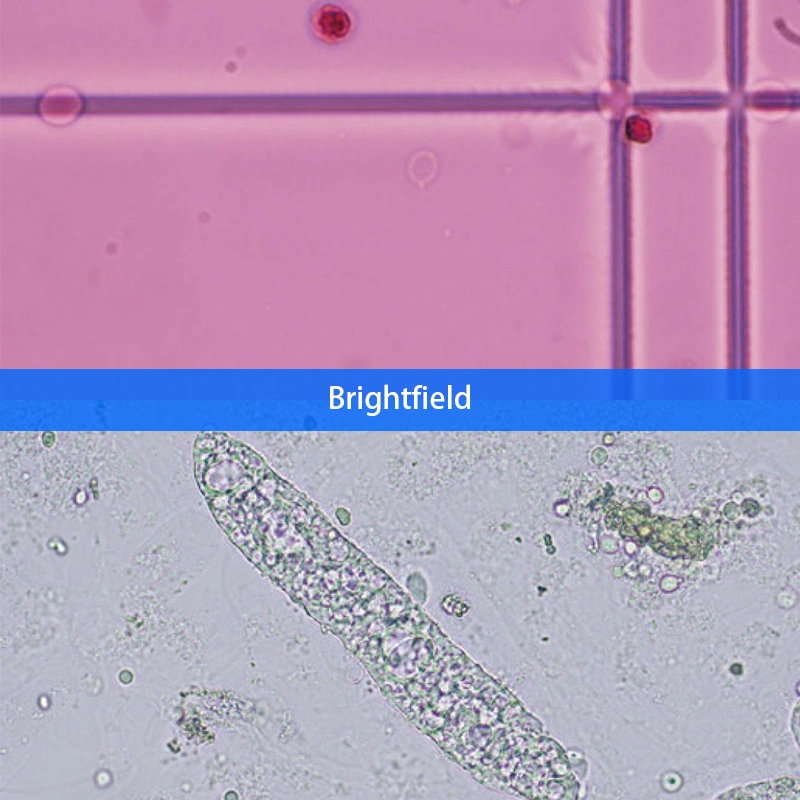 Versatile Applications
The universal condenser offers a variety of observation methods and future upgradability. In combination with the
five-position revolving nosepiece, multiple applications can be covered using the single microscope frame.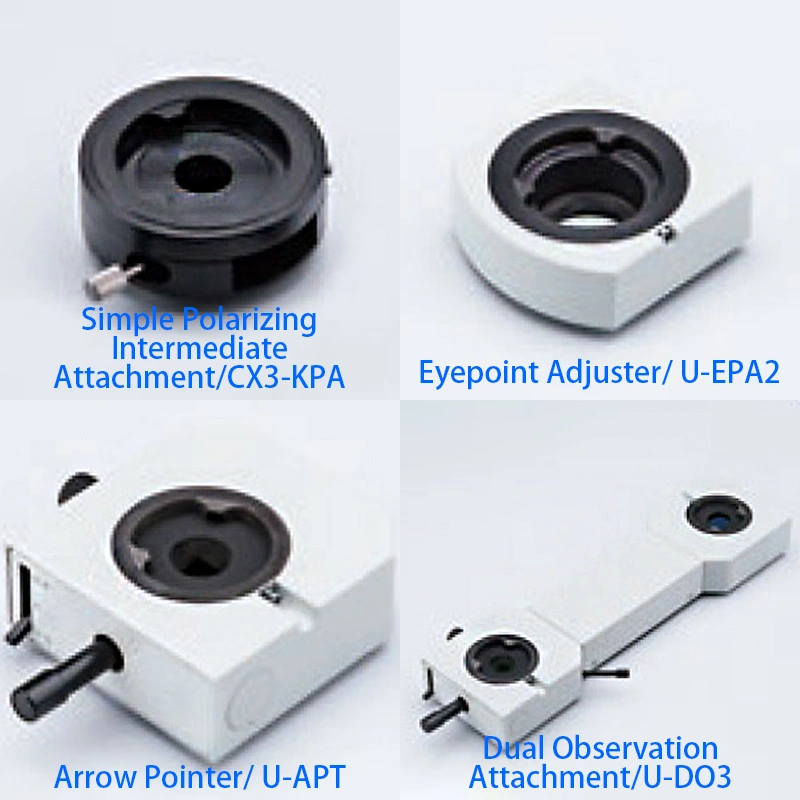 Accessories
Simple polarizing intermediate attachment/CX3-KPA
Offers polarized observation of urate crystals and amyloid in combination with a polarizer and analyzer.
Eyepoint adjuster/ U-EPA2
Raise the eyepoint position by 30 mm (1.2 in.) for added comfort.
Arrow pointer/ U-APT
Insert an LED arrow into your image; great for digital imaging and presentations.
Dual observation attachment/U-DO3
Enables dual, simultaneous observation of a single specimen from the same direction with
equal magnification and brightness for both
operators. A pointer can be used to indicate specific sections of the specimen to simplify the training process and enhance discussion.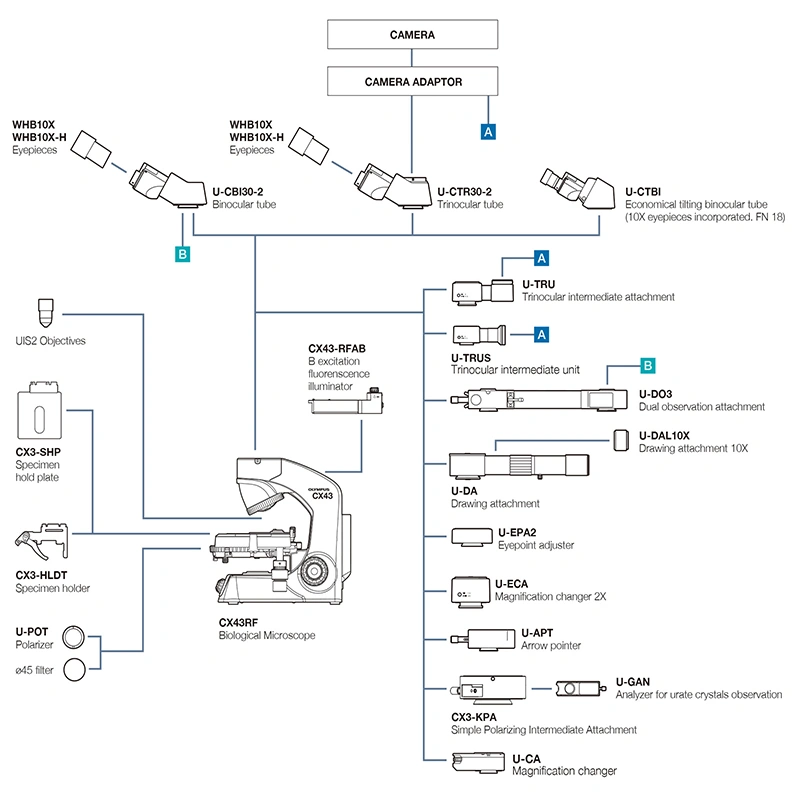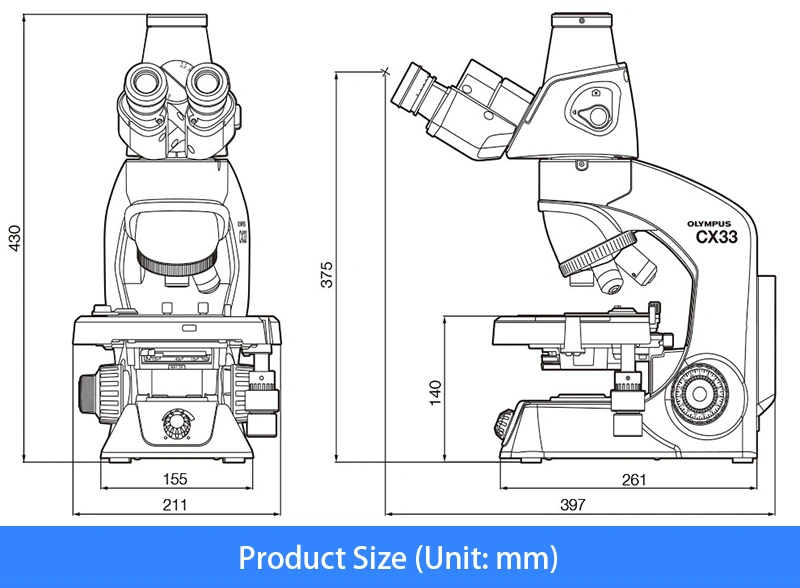 A12.0738 Olympus Biological Microscope, CX33

Optical System

Infinity Optical System

Illumination System

Built-in Transmited Illumination System
Kohler Illumination (Fixed Field Diaphragm)
LED Power Consumption 2.4 W (Nominal Value), Precentered

Focusing

Stage Height Movement (Coarse Movement Stroke: 15 mm )
Stroke Per Rotation For Coarse Adjustment Knob: 36.8 mm, Focusing Stopper
Torque Adjustment For Coarse Adjustment Knob
Fine Focus Knob (Minimum Adjutsment Gradations: 2.5 μm)

Revolving Nosepiece

Fixed Quadruple Nosepiece With Inward Tilt

Stage

Wire Movement Mechanical Fixed Stage, (W × D): 211 mm × 154 mm
Traveling Range (X × Y): 76 mm × 52 mm
Single Specimen Holder (Optional: Double Specimen Holder, Sheet Holder)
Specimen Position Scale
Stage XY Movement Stopper

Observation Tube

30° Inclined Trinocular Tube (Anti-fungal)
Light Path Selector: Eyepiece/Camera Port = 100/0 or 0/100
Interpupillary Distance Adjusting Range: 48‒75 mm
Eyepoint Adjustment: 375.0‒427.9 mm

Condenser

Abbe condenser NA 1.25 with oil immersion
Built-in aperture iris diaphragm

Observation Methods

Brightfield, Darkfield

Objectives

Plan Achromat, Anti-fungal
4X NA 0.1 W.D. 27.8 mm
10X NA 0.25 W.D. 8.0 mm
20X NA 0.4 W.D. 2.5 mm (Optional) 40X NA 0.65 W.D. 0.6 mm
100X NA 1.25 W.D. 0.13 mm (Optional)

Rated Voltage/Electric Current

AC 100‒240 V 50/60 Hz 0.4 A