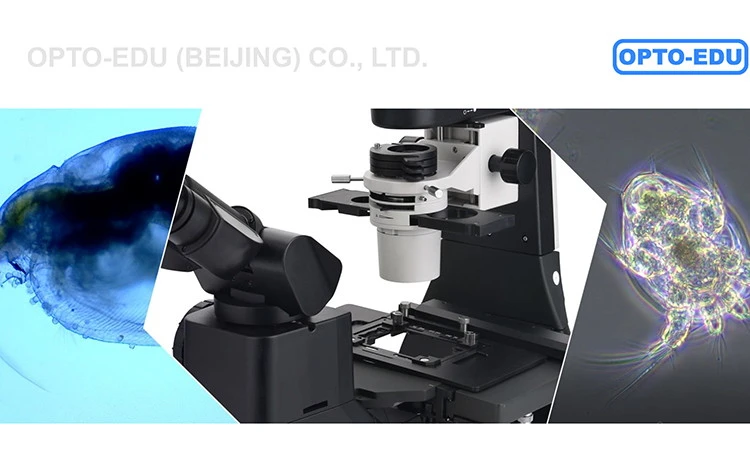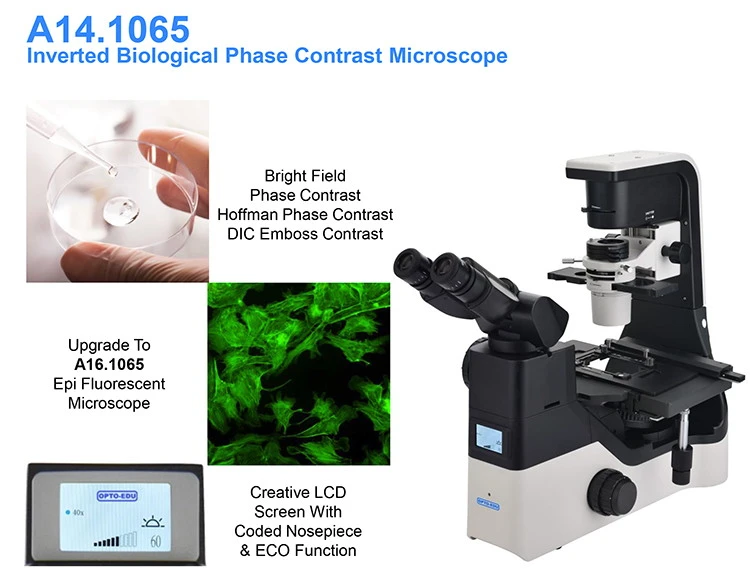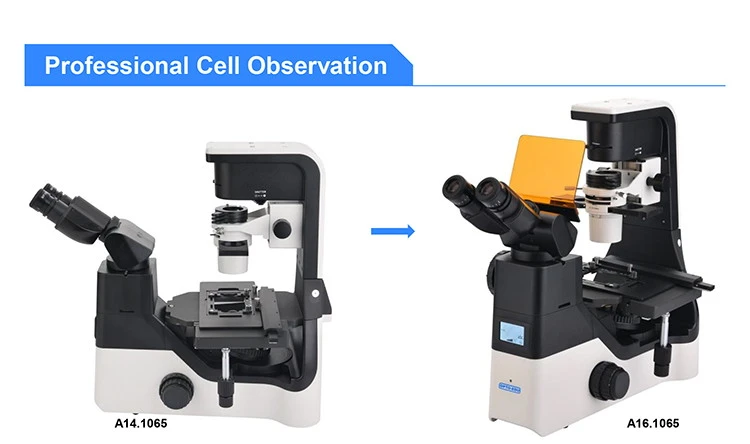 LED Illuminator, Suitable For Various Observation With A High Brightness And Long Lifetime Led
Illumination System For Both Transmission And Fluorescent Lighting, Proving Even Brightness
And Cool Lighting. Adopt Long Life LED Light Source And Infinity Optical System, Easy To Obtain High-definition And High Contrast Wide Viewing Images.

Use A Dimming Knob To Achieve Multiple Functions


Click: Enter Standby Status, Press + Up-spin: Switch To The Upper Light Source; Double Click: Light Lock Or Unlock, Press + Down-spin: Switch To The Under Light Source; Rotation: Adjust Brightness, Press 3 Seconds: Set The Time Of Turning Off The Light After Leaving.


The Microscope Control Mechanism Is Reasonable In Layout And Easy To Operate


Make Reasonable Improvement On Basis Of Scientific Research Microscope. More Suitable For Laboratory Observation Of Cells.
The Body Is Compact And Stable, And The Operation Buttons Are Well Arranged, The Cells Can Be Observed, Sampled And Processed In The Super Clean Bench Freely.
The Frequently Used Control Mechanisms Are Close To The User And In Low-hand Position. This Kind Of Design Makes Operation More Quickly And Conveniently, And Reduce The Fatigue Caused By The Long Observation. On The Other Hand, It Reduces The Airflow And Dust Caused By Large Amplitude Operation, And It Is Very Effective To Reduce The Probability Of Sample Pollution. It Is A Strong Guarantee For The Accuracy And Repeatability Of The Experimental Results.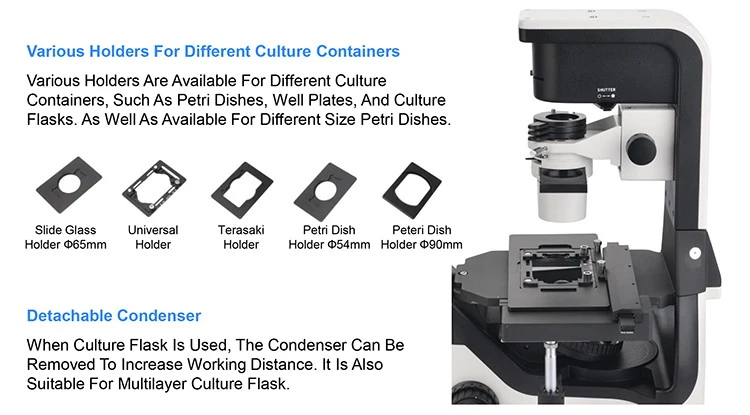 The Body Is Compact, Stable And Suitable For Clean Bench
Can Be Sterilized In The Clean Bench
On The Premise Of Ensuring The Effect Of Imaging, A14.1065 Is With Relative Compact Design. The Volume And Weight Of The Body Is Reduced As Much As Possible In Principle Of Stability. The Compact Body Is With Anti-uv Coating And Can Be Placed Into The Clean Bench For Sterilization Under Uv Lamp.
Cell Sampling And Operation Can Be Performed In Clean Bench
The Distance Between The Eye Point To The Operation Button And The Focusing Knob Of The A14.1065 Is Relatively Short, And The Distance From The Stage Is Far Away. It Is Available To Make The Viewing Head And Operating Mechanism Outside, And Stage, Objectives And Sample Inside. So Realize Cell Sampling And Operation Inside And Observing Comfortably Outside.


A14.1065 Inverted Biological Microscope,
A16.1065 Inverted LED Fluorescent Microscope

A14.1065

A16.1065

Cata. No.

Optical System

NIS60 Infinite Optical System (F200)

●

●

 

Observation Method

Bright Field, 

●

●

 

Phase Contrast

●

○

 

Epi-Fluorscence 

○

●

 

DIC 3D Emboss Contrast

○

○

 

Hoffman Phase Contrast

○

○

 

Head

Tilting Seidentopf Binocular Head, Incline 0-45° Adjustable , Interpupillary Distance 48-75mm, Eyepiece Tube Dia.30mm

●

●

 

Eyepiece / F.O.V

EW10x/22mm, Diopter Adjustable, Dia.30mm

●

●

A51.1030-1022

EW15x/16mm, Diopter Adjustable, Dia.30mm

○

○

A51.1030-1516

EW20x/12mm, Diopter Adjustable, Dia.30mm

○

○

A51.1030-2012

Nosepiece

Coded Quintuple Nosepiece, Dovetail Interface

●

●

 

LWD Infinity Plan
Objective

4x/0.10, W.D.30.0mm 

●

○

A5M.1032-4

10x/0.25, W.D.10.2mm 

○

○

A5M.1032-10

20x/0.40, W.D.12.0mm 

○

○

A5M.1032-20

40x/0.60, W.D.2.20mm 

○

○

A5M.1032-40

LWD Infinity Plan
Phase Contrast
Objective

4x/0.10, W.D.30.0mm 

○

○

A5C.1038-4

10x/0.25, W.D.10.2mm 

●

○

A5C.1038-10

20x/0.40, W.D.12.0mm 

●

○

A5C.1038-20

40x/0.60, W.D.2.20mm 

●

○

A5C.1038-40

LWD Infinity Plan


Semi-APO


Phase Contrast
Objective

4x/0.13, W.D.17.0mm 

○

○

A5C.1039-4

10x/0.3, W.D.7.4mm 

○

○

A5C.1039-10

20x/0.45, W.D.8.0mm 

○

○

A5C.1039-20

40x/0.60, W.D.3.6mm 

○

○

A5C.1039-40

20x/0.45, W.D.7.5-8.8mm  With Iris Adjustable

○

○

A5C.1040-20

40x/0.60, W.D.3.0-4.4mm  With Iris Adjustable

○

○

A5C.1040-40

60x/0.70, W.D.1.8-2.6mm With Iris Adjustable

○

○

A5C.1040-60

LWD  Infinity Plan
Semi-APO
Fluorescent
Objective 

4x/0.13, W.D.17.0mm, Cover Glass -

-

●

A5F.1032-4

10x/0.30, W.D.7.4mm, Cover Glass1.2mm

-

●

A5F.1032-10

20x/0.45, W.D.8.0mm, Cover Glass1.2mm

-

●

A5F.1032-20

40x/0.60, W.D.3.3mm, Cover Glass1.2mm

-

●

A5F.1032-40

60x/0.70, W.D.1.8-2.6mm, Cover Glass1.2mm

○

○

A5F.1032-60

Focusing System

Coaxial Coarse & Fine Adjustment, Tension Adjustable (At Right Hand), Fine Division 0.002mm,  Coarse Focusing Range Up 7mm, Down 1.5mm, Max Up To 18.5mm After Removing Focusing Limit.

●

●

 

Working Stage

Plain Working Stage 170(X) x 250(Y)mm,  

●

●

 

Attachable Mechanical Moving Stage,  X-Y Coaxial Moving 128x80mm

●

●

A54.1063-XY

Stage Clip

●

●

A54.1063-SC

Well Clamper For Well Plate

●

●

A54.1063-WC

Glass Stage Plate

●

●

A54.1063-G

Metal Stage Plate For Culture Bottle

○

○

A54.1063-M

Auxilliary Plate 2 Pieces (1 Piece Each Side)

●

●

A54.1063-A

Universal Holder

●

●

A54.1063-U

Terasaki Holder

○

○

A54.1063-T

Dia.35mm Petri Dish Holder 

○

○

A54.1063-35

Dia.54mm Slide & Petri Dish Holder 

○

○

A54.1063-54

Dia.65mm Slide & Petri Dish Holder 

○

○

A54.1063-65

Dia.90mm Petri Dish Holder 

○

○

A54.1063-90

Condenser

Long Working Distance Detachable Condenser NA 0.3, W.D.75mm, Without Condenser W.D.187mm

●

●

 

Illumination

Transmitted Illumination 3W S-LED Kohler Illumination

●

●

 

Reflected Illumination 3W LED, For Epi-Fluorescence

○

●

 

Phase Contrast

Centering Telescope 10x, Tube Dia. 30mm

●

○

A5C.1063-T

Phase Slider For 4x//10x-20x-40x

●

○

A5C.1063-S

Phase Slider For 10x-20x,40x APO Objectives

○

○

A5C.1063-APOS1

Phase Slider For 4x,60x APO Objectives

○

○

A5C.1063-APOS2

Emboss Contrast DIC

Emboss Contrast Slider For 10x-20x-40x
Universal Emboss Contrast Plate For 10x-20x-40x

○

○

A5C.1063-DIC

Hoffman Phase Contrast

Hoffman Phase Contrast Set:
--Hoffman Phase Contrast Condenser, With Polarizer,
--Hoffman Phase Contrast Objective 10x, 20x, 40x
--Hoffman Phase Slider For 10x, 20x, 40x
--Centering Telescope 10x, Tube Dia. 30mm

○

○

A5C.1064

Epi-Fluorescence Attachment

Epi-Fluorescence Attachment, Turret With 3 Holes For Filter Cubes, With Noise Terminator Mechanism, With Attachable UV Shield

○

●

 

Filter Cube B + LED Unit, 365nm

○

●

A5F.1063-B

Filter Cube G + LED Unit, 405nm

○

●

A5F.1063-G

Filter Cube U + LED Unit, 485nm

○

●

A5F.1063-U

Filter Cube V + LED Unit, 525nm

○

○

A5F.1063-V

Filter Cube FITC

○

○

A5F.1063-FITC

Filter Cube DAPI

○

○

A5F.1063-DAPI

Filter Cube TRITC

○

○

A5F.1063-TRITC

Photo Port

Head Side Camera Port Switchable 100/0:0/100 

●

●

 

Photo Adapter

1.0x C-Mount

●

●

A55.1063-1.0

0.5x C-Mount

○

○

A55.1063-0.5

0.7x C-Mount

○

○

A55.1063-0.7

Power Supply

AC 100-240V,50/60Hz

●

●

 

LCD Screen

LCD Screen On Front Of Body, Display Using State Of Microscope, Including Magnification, Light Intensity, Standby Status,

ECO

Set Power Off Timer 5 Mins to 8 Hours, And So On.

●

●

 

Dimensions

244(W)x543(D)x526(H) mm

●

●

 

Note:"

●

"In Table Is Standard Outfits,"

○

"Is Optional Accessories"-"Is Unavailable