OPTO-EDU A34.4903-C 6x~365x Magnification Digital Mini Metallurgical Binocular Electric Microscope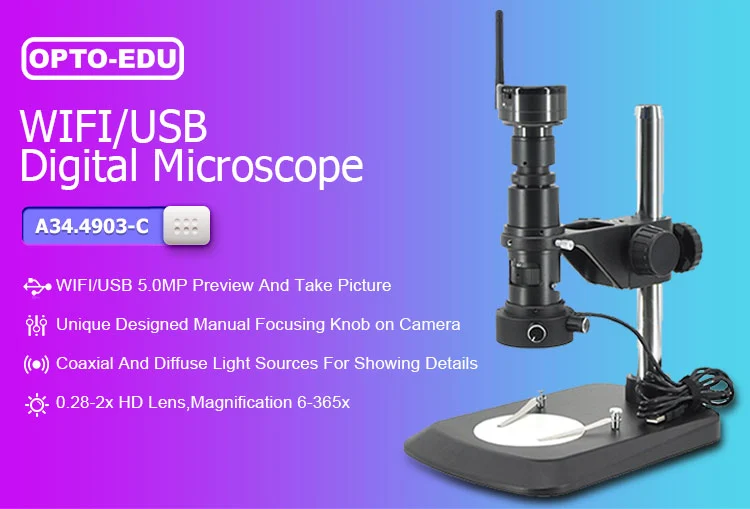 A34.4903-C WIFI/USB Digital Microscope

Hardware Configuration

Image Sensor

APTINA MT9P001 CMOS(colorful)

Expose Mode

Rolling Shutter

Maximum Resolution

2592 x 1944 (5,038,848 pixels)

Sensor Optical Format

1/2.5" (5.70mm(H) x 4.28mm(V), Diagonal 7.13mm)

Pixel Size

2.2μm*2.2μm

Dynamic Range

70.1dB

ADC

12-bit, 8-Bit R.G.B to PC

SNR(Signal Noise Ratio)

38.1dB

Spectral Characteristics

380-650nm(during daytime mode)

Binning Modes

1 x 1, 2 x 2

Exposure Capability

Real-time auto, Single auto, Manual Adjustment

White Balance

Real-time auto, Single auto, Manual adjustment

Software Interface

DirectShow

Maximum Transmission Frame Rate(USB mode)

10FPS@2592x1944

15FPS@1920x1080,1600x1200

40FPS@1280x960, 1280x720, 1024x768, 800x600, 640x480

Maximum Transmission Frame Rate(WiFi mode)

10FPS@2592x1944

15FPS@1920x1080,1600x1200

40FPS@1280x960, 1280x720, 1024x768, 800x600, 640x480

Record Format

Snapshot

Picture Format:JPG,BMP,PNG,TIFF,PDF

Resolution:2592x1944, 1920x1080, 1600x1200, 1280x960, 1280x720, 1024x768, 800x600, 640x480

Record

Video Format:MJPG format AVI file

Resolution:1920x1080, 1600x1200, 1280x960, 1280x720, 1024x768, 800x600, 640x480

Optical Parameters

Lens Optical Magnification

0.28X~2X
Wireless Parameter/Power Parameter

Standard

802.11b/g/n

Operating Frequency Range

2.400~2.4835GHz

Available Channels

802.11n 20MHz/40MHz

802.11b/g

USA, Canada (FCC):11 channels(2.412GHz~2.462GHz)

Europe(CE):13 channels (2.412GHz~2.472GHz)

Japan (TELEC):14 channels (2.412GHz~2.4835GHz)

Data Rate

802.11n:up to 150Mbps 1T1R

802.11b:up to 11Mbps

802.11g:up to 54Mbps

Transmission Power

11n HT40 MCS7:+16dBm+/-1.5dBm

Receiving Sensitivity

-61 dBm@10% PER at HT40 MCS7

-61 dBm@10% PER at 54Mpbs

-85 dBm@10% PER at 11Mpbs

Suggestion on number of receiver on different resolution

10@640x480

8@800x600

6@1024x768

5@1280x720

5@1280x960

4@1920x1080

3@2592x1944

The Wireless work instructions

When there has not WiFi, LED lamp turn off

When WiFi is opened but do not connect, LED is always lighting

When WiFi is connected ,LED flashes at the beginning and stay turn on afterward

When WiFi is connected, LED flashes, about once per second .The greater the amount of data the faster it flashes, and it is about 10 times per second

Power-up

Wired: direct-current 5V,power by USB cable

Wireless: DC 5V 2A power plug

Software Environment

USB work mode

Windows system demand

Microsoft WindowsR XP /7/8/8.1/10(32 & 64 bit)

CPU: equal or more than the second generation Intel core 2.8GHz

Memory: 2G or more

DVD-ROM (Need it during installing software)

WiFi work mode

Windows system demand

Microsoft WindowsR XP / 7 / 8 /8.1/10(32 & 64 bit)

CPU: equal or more than the second generation Intel core 2.8GHz

Memory: 2G or more

Internal wireless network card (support IEEE 802.11b/g/n)

iOS System Demand

IOS8.0 or higher

Android system demand

Android 4.0 or higher

CPU: dual-core 1.7GHz or higher

RAM memory : 1G or more

Storage ROM :suggest 8G or larger

Operating Environment

Operating temperature

0℃~40℃

Storage temperature

-20℃~60℃

Operating Humidity

30~60%RH

Storage Humidity

10~80%RH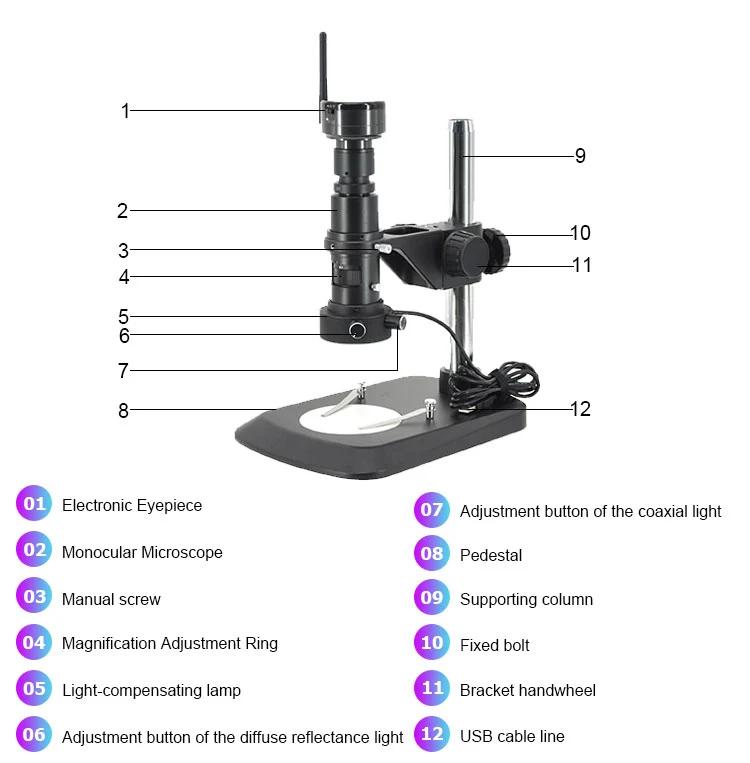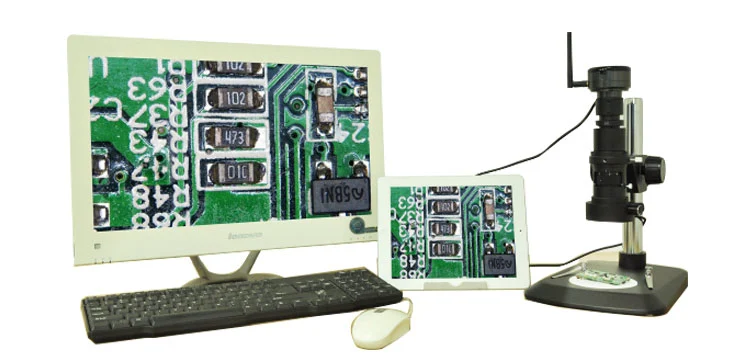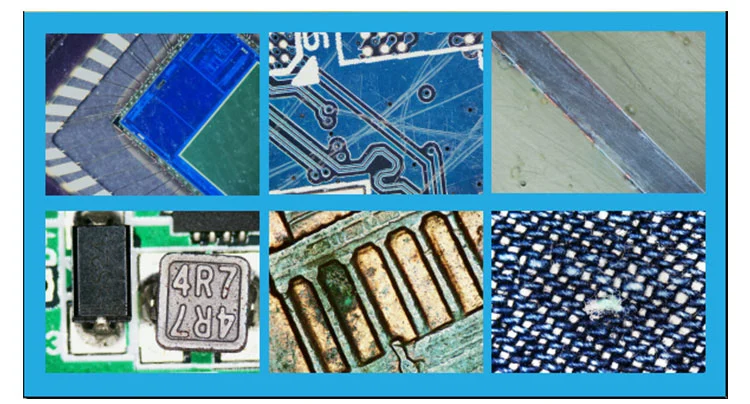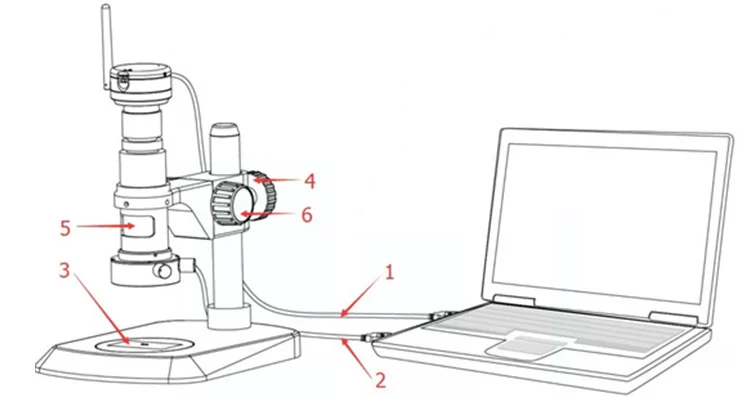 1.Connect the electronic eyepiece to devices (computer or mobile device) and open the software.
2.Connect the fill light to adapter for power supply.
3.Place the observed object on the pedestal right under the microscope.
4.Unscrew the fastening bolt, adjust the bracket by moving up and down and adjust the height of the microscope (until the computer displays pictures clearly).
5.Adjust the magnification to the maximum (5 times).
6.Adjust the bracket hand wheel until the picture displays clearly.
7.Start to use.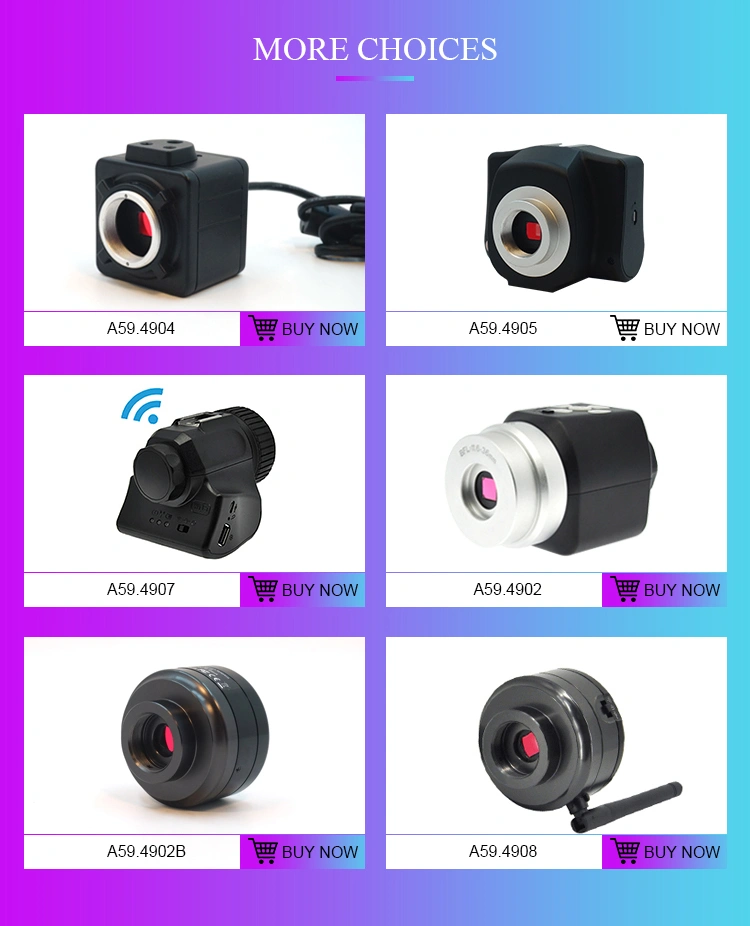 Packing : Compact Design Box and Strong Master Carton
Shipping Time : 1-5 Days From Stock
OPTO-EDU is one of the top professional supplier for microscope from China, we focus in microscope & educational field for more than 20 years. As the top recommended seller for microsc0pe on alibaba, we have full types microscopes, including biological microscope, stereo microscope Metallurgical microscope, inverted microscope, fluorescent microscope, polarized microscope, phase contrast microscope, dark field microscope, multi-viewing microscope, DIC microscope, AFM/STM/SPM microscope, zoom microscope, gem microscope, digital microscope, LCD microscope, comparison microscope Forensic microscope, and all kinds of microscope accessories.

Our customer comes from more than 104 countries, such as United States, Britain, Russia, Canada, Germany, Denmark, Poland, Sweden, UAE, Qatar, Saudi Arabia, Egypt, Mexico, Argentina, Chile, Brazil, Korea, Thailand, India , Indonesia, Philippines, and so on. We have been working tirelessly to supply China's nice quality production to the world market!