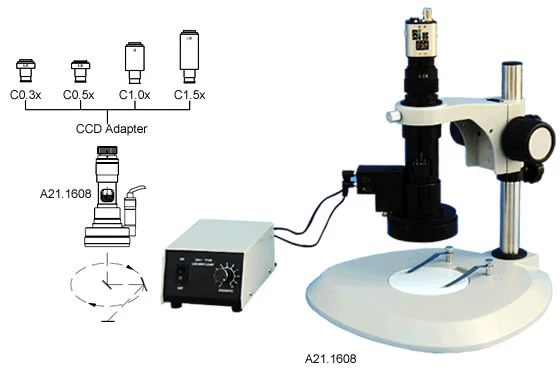 A21.1608 
    3D rotated zoom digital video microscope, zoom 
    monocular video microscope, adopts advanced optical technology and fine machine 
    electron technology. It can observe from single front to the high-resolution 
    dynamic image of 360 degree all-direction, large depth of fields. It has realistic 
    stereo perception and gradation, revolving speed can be changed. You can observe 
    the place that the tradition lens unable display, e.g. below of PCB board, 
    inside of metal holeree-dimensional many-sided and more fine, even you can 
    observe the side-wall etc. It can be used extensively in surface board of 
    SMT, PCB, BGA. etc.
    
    Features 
    --Zoom body magnification 0.56-3.75x
    --Lens can be rotated 360 degree, large depth of fields, stereo observing 
    each direction of object
    --Inlet miniature motor, long life LED illumination with 90V-260V wide voltage 
    range 
    --The 
    measurement to match between support and main body: 45mm
    --The 
    diameter of round post is 25mm  
    
    --2-D mechanical stage, moving range 76x50mm
    --0.3x, 0.5x (standard outfit), 1.0x, 1.5x CCD adapter optional
    --Standard outfit does not include CCD camera
Main Specification

Model

A21.1608-45

A21.1608-30

A21.1608-60

Viewing Angle

45 Degree

30 Degree

60 Degree

Standard Objective

0.56-3.75x

Standard CCD Adapter

0.5x

Stand

Pole Stand, ring diameter 45mm

Light Source

long life LED illumination with 90V-260V wide voltage range

*Standard outfit doesn't included CCD camera
Technical Data Sheet

CCD Adapter

Optical Magnification

Video Magnification

Field of
Video (mm)

Working Distance (mm)

Observing Angle

0.3x

0.169x-1.125x

9.99x-66.6x

21.3x28.4-3.2x4.7

20

45°

0.5x

0.28x-1.875x

16.65x-111x

12.9x17.1-1.92x2.56

1.0x

0.56x-3.75x

33.3x-222x

6.4x8.6-0.96x1.28

1.5x

0.84x-5.625x

49.95x-333x

4.3x5.7-0.64x0.85

0.3x

0.169x-1.125x

9.99x-66.6x

21.3x28.4-3.2x4.7

11

30°

0.5x

0.28x-1.875x

16.65x-111x

12.9x17.1-1.92x2.56

1.0x

0.56x-3.75x

33.3x-222x

6.4x8.6-0.96x1.28

1.5x

0.84x-5.625x

49.95x-333x

4.3x5.7-0.64x0.85

0.5x

0.1875x-1.25x

11.1x-74x

19.2x25.6-2.88x3.84

65

60°

1.0x

0.375x-2.5x

22.2x-148.2x

9.6x12.8-1.44x1.92

1.5x

0.5624x-3.75x

33.3x222.3x

6.4x8.5-0.96x1.28

0.5x

0.1875x-1.25x

11.1x-74x

19.2x25.6-2.88x3.84

8

15°

1.0x

0.375x-2.5x

22.2x-148.2x

9.6x12.8-1.44x1.92

1.5x

0.5624x-3.75x

33.3x222.3x

6.4x8.5-0.96x1.28

Note:Total magnification, field of view are based on 1/3" CCD camera and 14" monitor