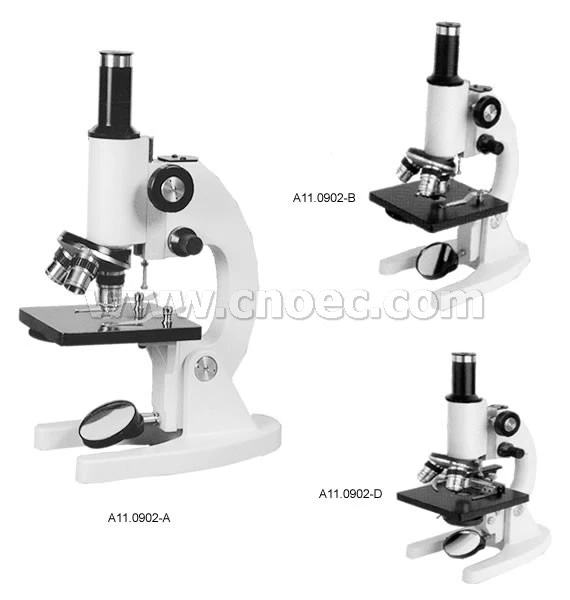 ★ Mechanical tube length 160mm.
★ Metal construction body ensures many years use for students.
★ Triple nosepiece can change objectives to view at random.
★ All models adopt three achromatic objectives 4X,10X,40XS.
★ Rack and pinion focusing adjustment with slip clutch mechanism, avoid breaking slides and
objectives by careless or overpowered turning.
★ Coarse and fine focus mechanism; Arm of these biological microscope can incline up to 45° adjust angle at random to observe
comfortably.
★ It equip hermetic and convenient Engineering plastics packing box.
★ There are many accessories , you can choose it by yourself.
Speicification

A11.0902

A

B

C

D

Head

Monocular,160mm Mechanical tube length

Magnification

500X

●

640X

●

1250X

●

1600X

●

Huygens Eyepiece

H5X

●

●

H10X

●

●

●

●

H12.5X

●

●

H16X

●

●

Objective

4X

●

●

10X

●

●

●

●

40XS

●

●

●

●

100XS

●

●

Nosepiece

Triple

●

●

●

●

Condenser

Abbe.N.A.1.25 condenser with iris diaphragm and filter

--

--

●

●

Movable Specimen Holder

Black holder(60mm*30mm)

--

--

●

●

Coarse Focus Range

40mm

●

●

●

●

Fine Focus Range

1.2mm

●

●

●

●

Illumination

Φ 50mm plano and concave mirror

●

●

●

●

Stage

Mechanical Stages Size:110mm * 120mm plain stage

●

●

●

●

Clip

●

●

Diaphragm
Disc Diaphragm

●

●

Iris Diaphragm

--

--

●

●

Filter
Blue/Yellow/Green

--

--

●

●

Optional Accessories

Moveable specimen holder,polarizer device, TV adapter, photo mount adapter