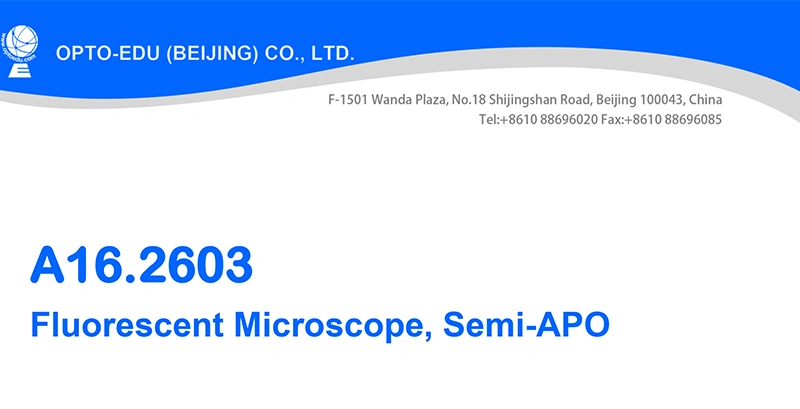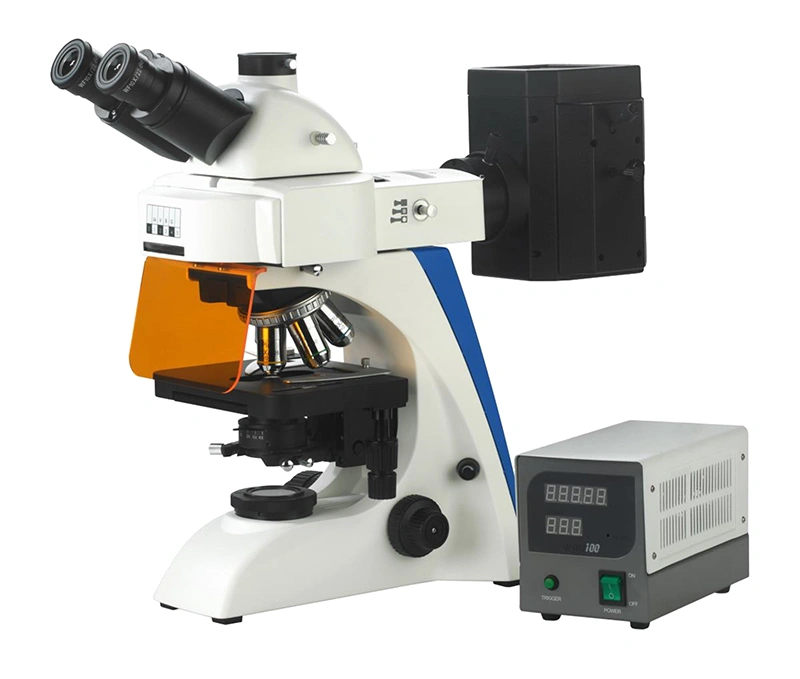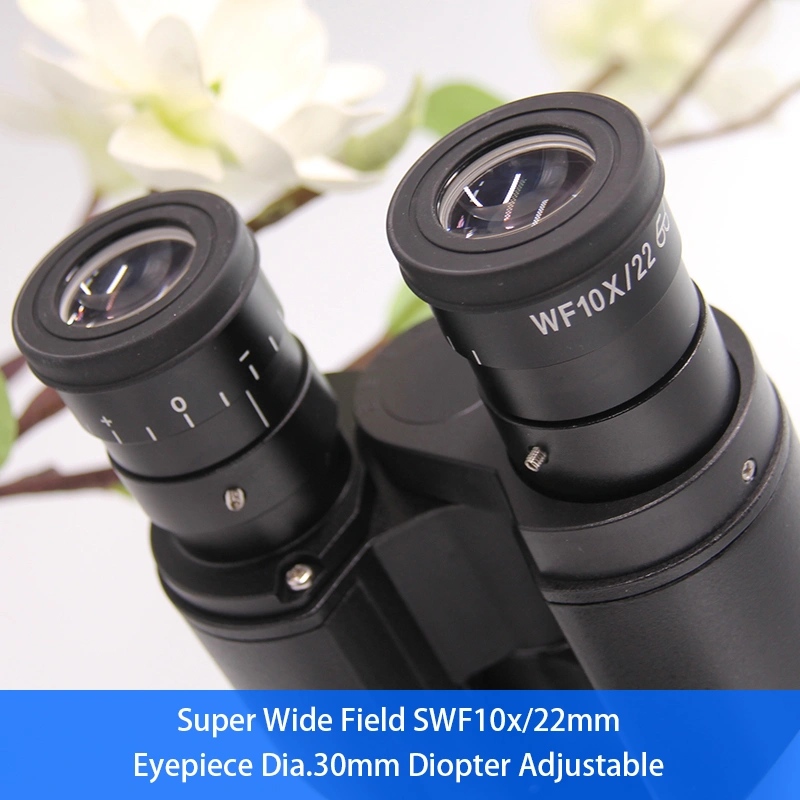 Super Wide Field Eyepiece
SWF10x/22mm
Eyepiece Dia.30mm Diopter Adjustable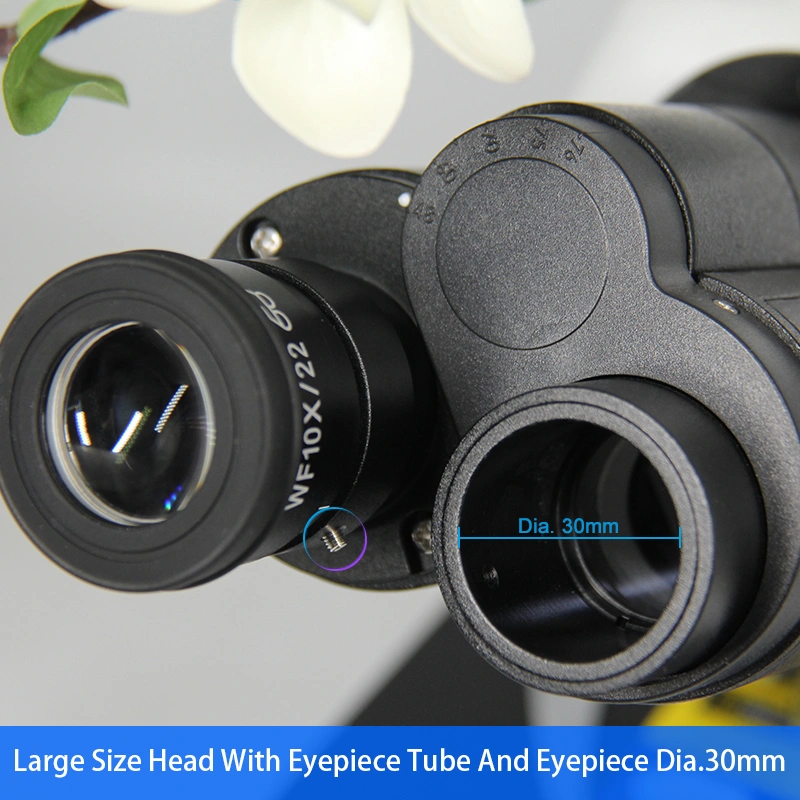 The Eyepiece Tube Has Fix Screw 
To Prevent Eyepiece Falling Damage During Move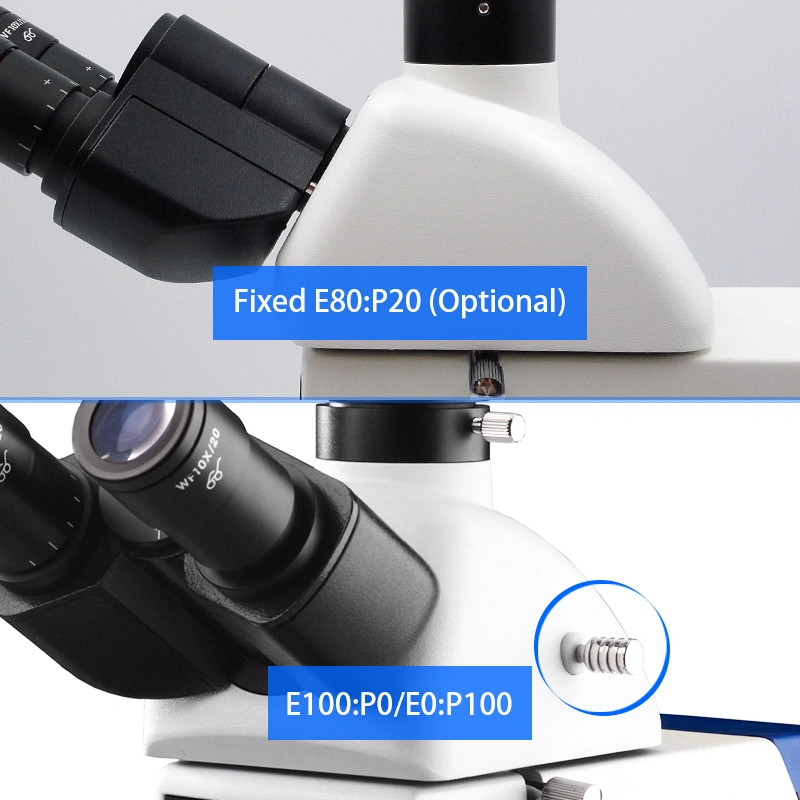 Trinocular Head Light Split Optional Between Switch E100:P0/E0:P100 & Fixed E80:P20
In Fixed Light Split, Eyepiece 80% : Photo 20% User Can View Image At Same Time In Both Path
In Switch Light Split, Eyepiece 100%:Photo 0% / Eyepiece 0%:Photo 100%, Camera Can Have 100% Light For Photo Capture.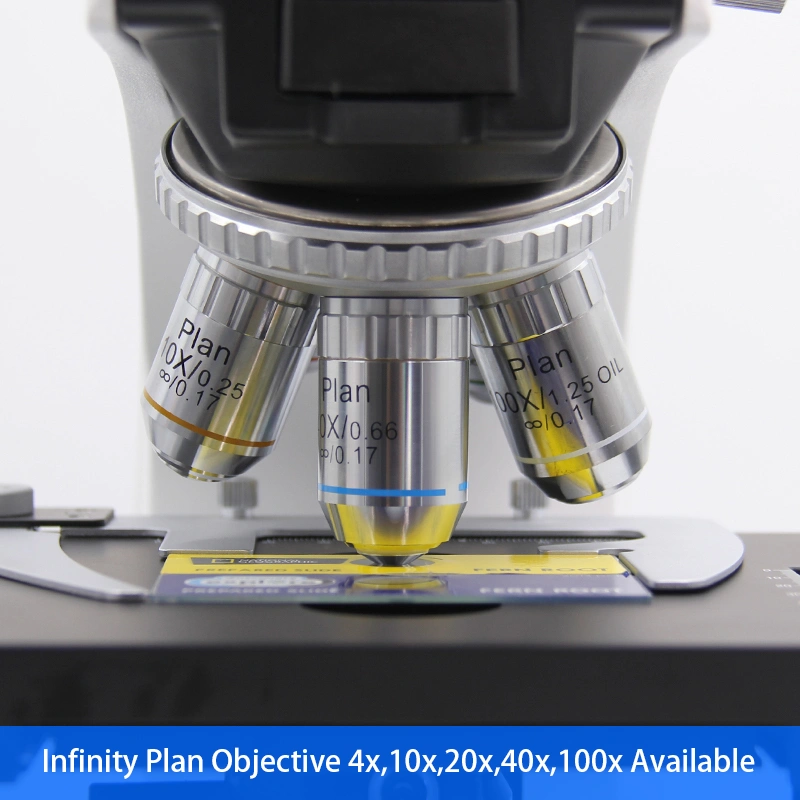 Large Size High Precision Quintuple Nosepiece, With Polarizing Analyzer Slot
,  
Infinity Plan Objective 4x,10x,20x,40x,100x Available
Creative 100X Water Objective (Optional) Instead Of 100X Oil Objective, More Convenient For Using & Cleaning After Use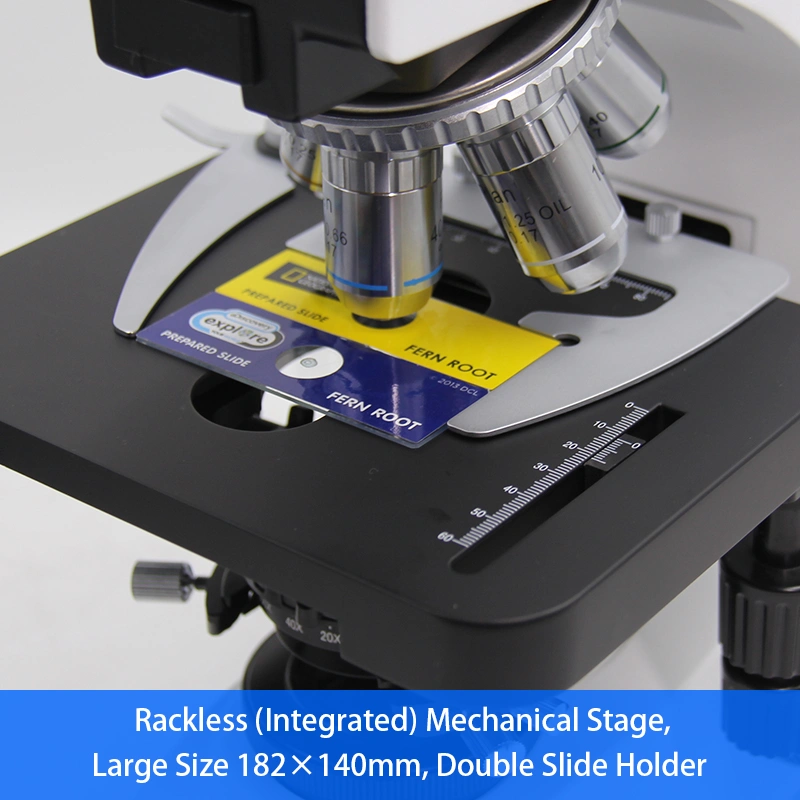 Rackless (Integrated) Mechanical Stage
Large Size 182×140mm, Double Slide Holder 
Travel Range 77×52mm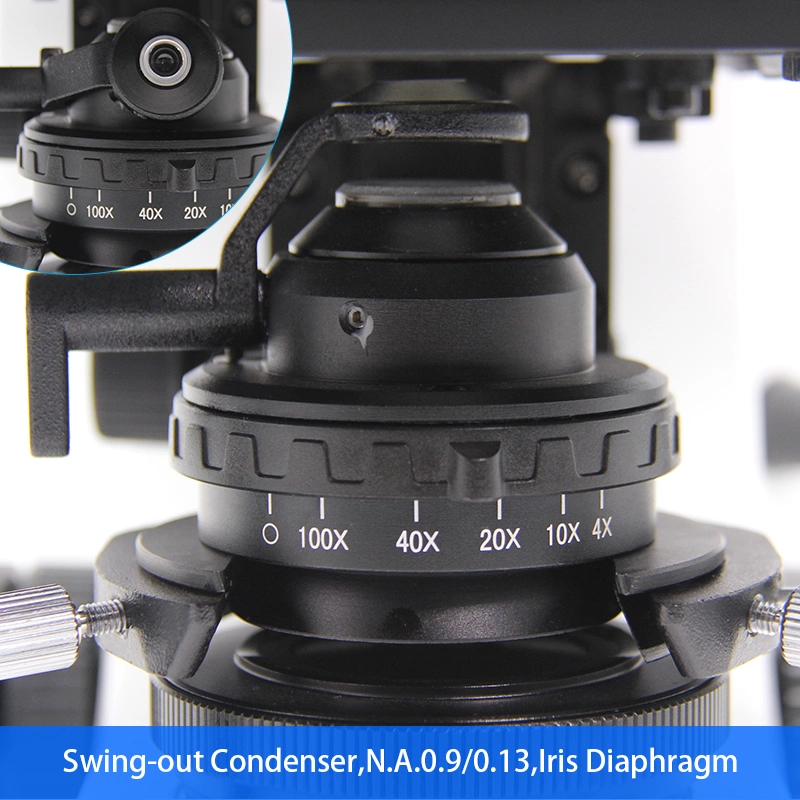 Swing-out Condenser,N.A.0.9/0.13,Iris Diaphragm
Control The Amount Of Light According To Demand, The Effect Is More Perfect.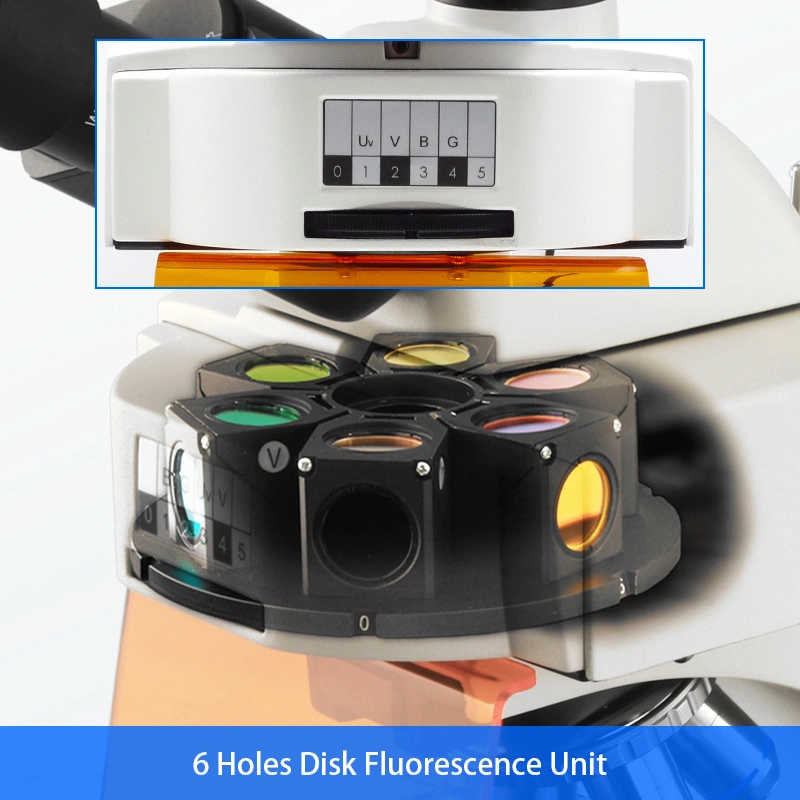 6 Holes Disk Fluorescence Unit
Can Load Up to 5 Fluorescence Filters + 1 Hole For Bright Field View,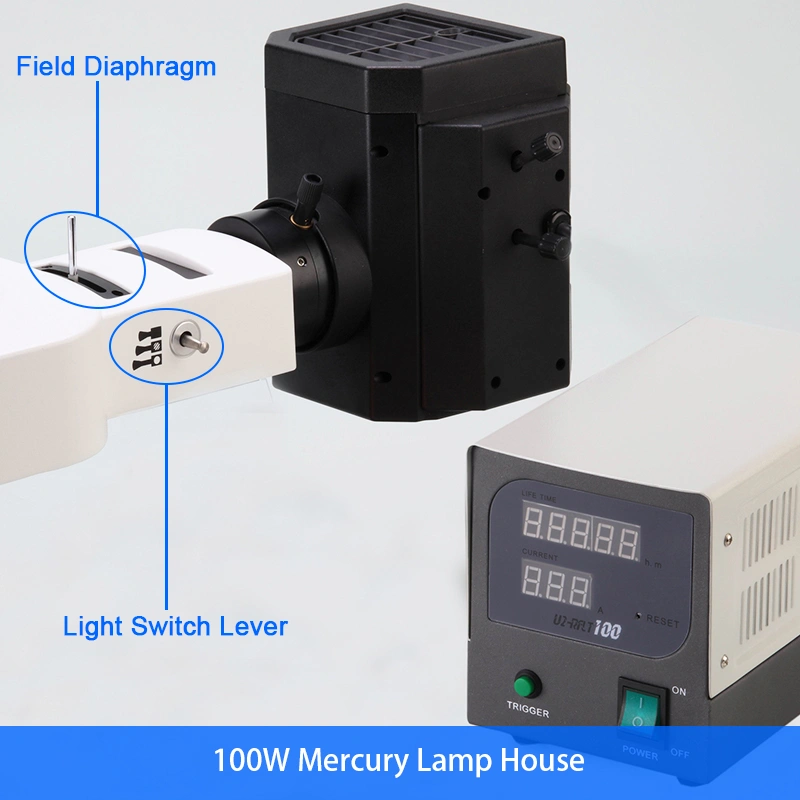 100W Mercury Lamp Fluorescent 
Illumination Unit, With Field Diaphragm, Light Switch Lever. 
Items

A16.2603  Fluorescent Microscope Specification

-B2

-T2

-B4

-T4

Cata. No.

Head

Seidentopf Binocular Head Inclined 30°,Rotatable 360°, Interpupilary Distance 48-76mm,

Eyepiece Tube Dia.30mm

●

○

●

○

A53.2623-B

Seidentopf Trinocular  Head Inclined 30°,Rotatable 360°, Interpupilary Distance 48-76mm, Light Split Switch E100:P0/E20:P80,

Eyepiece Tube Dia.30mm

○

●

○

●

A53.2623-T

Eyepiece

WF10x/22mm,

Dia.30mm,

High Eyepoint, Diopter Adjustable

●●

●●

●●

●●

A51.2621-1022

Nosepiece

Quintuple

●

●

●

●

A54.2610-N01

Infinity Plan Objective

PLAN 2.5X/0.07,W.D.=8.47mm

○

○

○

○

A52.2606-2.5

PLAN 4X/0.10,W.D.=12.10mm

●

●

●

●

A52.2606-4

PLAN 10X/0.25,,W.D.=4.64mm

●

●

●

●

A52.2606-10

PLAN 20X/0.40(S),W.D.=2.41mm

●

●

●

●

A52.2606-20

PLAN 40X/0.66(S),W.D.=0.65mm

●

●

●

●

A52.2606-40

PLAN 60X/0.80(S),W.D.=0.33mm

○

○

○

○

A52.2606-60

PLAN 100X/1.25(S,Oil),W.D.=0.12mm

●

●

●

●

A52.2606-100

PLAN 100X/1.15(S,Water),W.D.=0.19mm

○

○

○

○

A52.2606-100W

Infinity Plan


Semi-APO

Fluorescent Objective

UplanFLN 4x, N.A.0.16

,

W.D.=17.151mm

○

○

○

○

A5F.2611-4

UplanFLN 10x, N.A.0.30

,

W.D.=7.68mm

○

○

○

○

A5F.2611-10

UplanFLN 20x, N.A.0.50

,

W.D.=1.96mm

○

○

○

○

A5F.2611-20

UplanFLN 40x, N.A.0.75

,

W.D.=0.78mm

○

○

○

○

A5F.2611-40

UplanFLN 100x(Oil), N.A.1.30

,

W.D.=0.15mm

○

○

○

○

A5F.2611-100

Working Stage

Rackless

(Integrated) Mechanical Stage, Size 182×140mm, Travel Range 77×52mm, Double Slide Holder

●

●

●

●

A54.2601-S10

Mechanical Stage Size 175 mm×145mm, Travel 76mmX52mm, Scale: 0.1mm, Double Slide Holder

○

○

○

○

A54.2601-S01

Focusing

Coaxial Coarse & Fine Focusing, Coarse Focusing Travel Range: 22mm, Fine Focusing Div. 0.002mm

●

●

●

●

 

Condenser

Swing-out Condenser,N.A.0.9/0.13,Iris Diaphragm

●

●

●

●

A56.2614-07a

Illumination

Transmit Light 6V30W Halogen
Koehler Illumination, Wide Voltage 100V~240V, Field Diaphragm

●

●

●

●

A56.2613-30W

Field Diaphragm

For Kohler Illumnation

●

●

●

●

A56.2615-BK

Filter

Dia.45mm, Blue 

●

●

●

●

A56.2616-45B

Dia.45mm, Green

○

○

○

○

A56.2616-45G

Dia.45mm, Yellow

○

○

○

○

A56.2616-45A

Dark Field

Dark Field Condenser, Dry, N.A.0.83-0.91, For 4x10x40x Objective

○

○

○

○

A5D.2610-BK

Dark Field Condenser, Immersion, N.A.1.3, For 100x Objective

 

 

 

 

A5D.2610-BKW

Polarizing

Analyzer + Polarizer Set

○

○

○

○

A5P.2601-BK

Phase Contrast

Infinity Plan Phase Contrast Objective 10x + Phase Contrast Slide 10x + Phase Contrast Condenser + Telescope 11x + Green Filter

○

○

○

○

A5C.2602-10

Infinity Plan Phase Contrast Objective 20x + Phase Contrast Slide 20x + Phase Contrast Condenser + Telescope 11x + Green Filter

○

○

○

○

A5C.2602-20

Infinity Plan Phase Contrast Objective 40x + Phase Contrast Slide 40x + Phase Contrast Condenser + Telescope 11x + Green Filter

○

○

○

○

A5C.2602-40

Infinity Plan Phase Contrast Objective 100x + Phase Contrast Slide 100x + Phase Contrast Condenser + Telescope 11x + Green Filter

○

○

○

○

A5C.2602-100

Turret Phase Contrast Attachment
Infinity Plan Phase Contrast Objective 10x20x40x100x, Turret Phase Contrast Condenser 5-Holes, Telescope 11x, Green Filter

○

○

○

○

A5C.2603-BK

Fluorescence

Upgrade From A12.2603-B/T Biological Microscope With




B,G

China Fluorescent Set
100W Mercury Lamp House
100W Mercury Power Box, Digital Disp.
6 Holes Disc Fluorescent Unit
Ultraviolet Protection Barrier
Centering Objective
China 100W Mercury Lamp 2 pcs

●

●

 

 

A5F.2601-2

Upgrade From A12.2603-B/T Biological Microscope With
B,G,U,UV China Fluorescent Set
100W Mercury Lamp House
100W Mercury Power Box, Digital Disp.
6 Holes Disc Fluorescent Unit
Ultraviolet Protection Barrier
Centering Objective
China 100W Mercury Lamp 2 pcs

 

 

●

●

A5F.2601-4

Adapter

C-Mount 0.5x, Focus Adjustable

○

○

○

○

A55.2601-05

C-Mount 0.75x, Focus Adjustable

○

○

○

○

A55.2601-75

C-Mount 1.0x, Focus Adjustable

○

○

○

○

A55.2601-10

Digital Eyepiece Camera Adapter, Dia. 23.2mm/25mm

○

○

○

○

A55.2610

Package

Carton Size 970×340×440mm, 1 pc / Ctn

Weight

Gross Weight: 22 kgs, Net Weight: 18 kgs

Note:"

●

"In Table Is Standard outfits,"

○

"Is Optional Accessories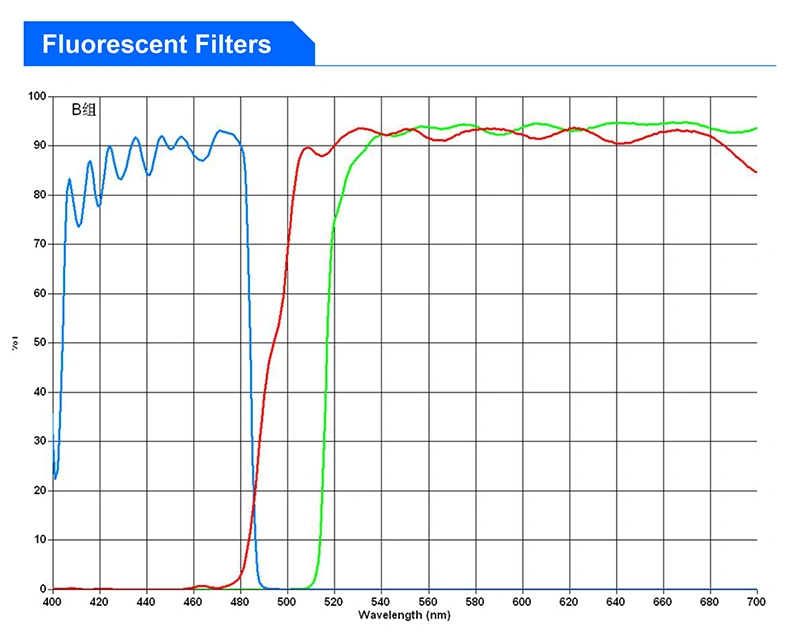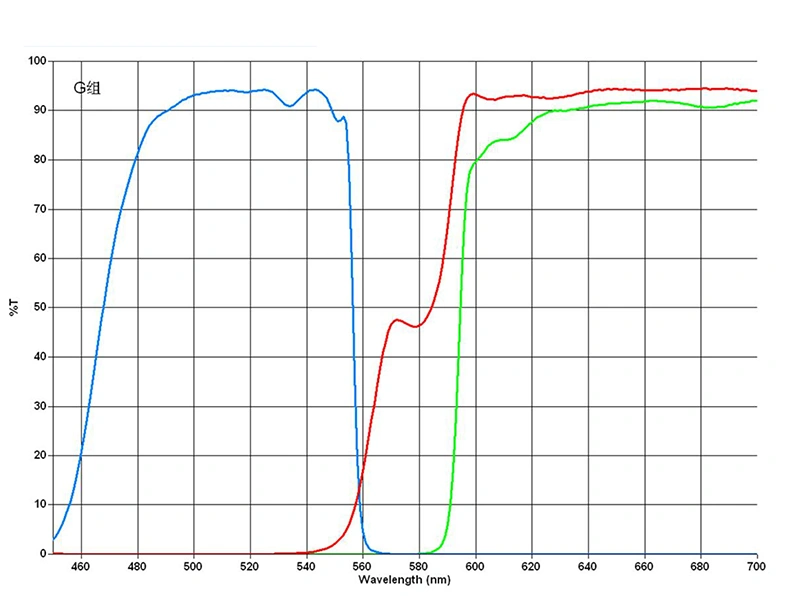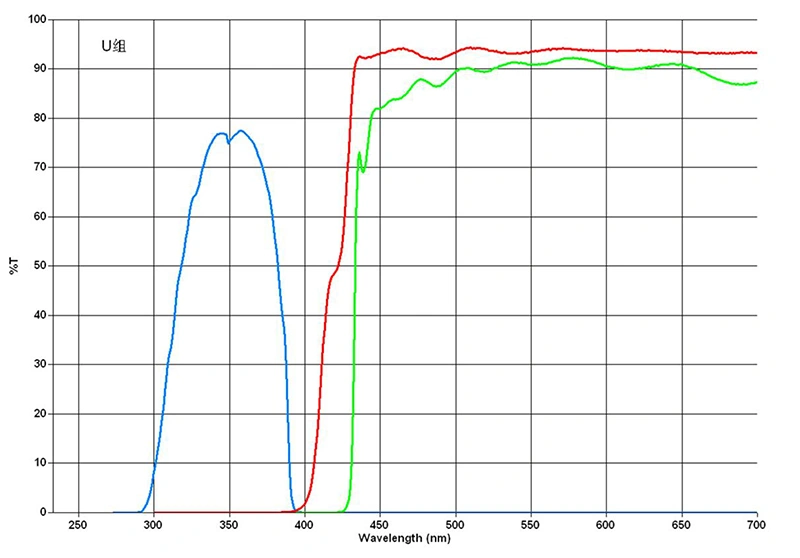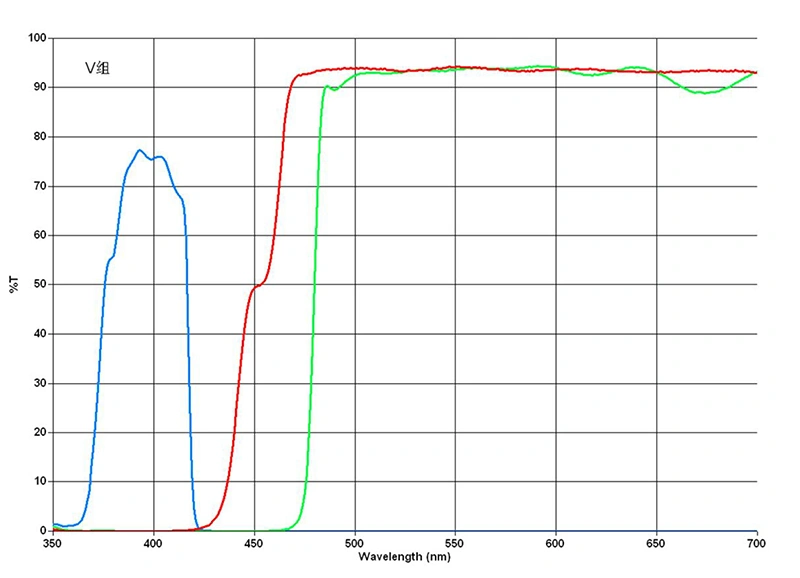 | | | | |
| --- | --- | --- | --- |
| Fluorescent Filters | Exciter (nm) | Dichroic (nm) | Emitter (nm) |
| UV | 330-380 | 400 | 435 |
| V | 380-420 | 430 | 460 |
| B | 420-490 | 505 | 520 |
| G | 500-550 | 575 | 590 |