Coaxial LED Illumination

1. Introduction
Annular  lamp model A56.4902 is designed for monocular microscope, it is a high  brightness white LED lamp with high brightness, linear light, long life, small  size, and has the advantages of flicker-free, small amount of heat, it  completely solves the traditional annular lamp's shortage of short life, big  volume, the life of the defects, high calorific value, it is upgraded version  of annular lamp.
 
2. Feature
--Long life, energy saving, compact, convenient installation;
  --High brightness, produce less heat, comfortable light for eyes, direct  current power supply, no stroboscopic;
  --Safe, reliable, aluminum alloy housing, shockproof, Anti-aging,  flame-retardant, anti-static; 
  --Homogeneous light, brightness adjustable, achieve the ideal effect of  observation, it is an ideal of monocular microscope light source;
  --USB power supply, make your work more convenient and high efficient.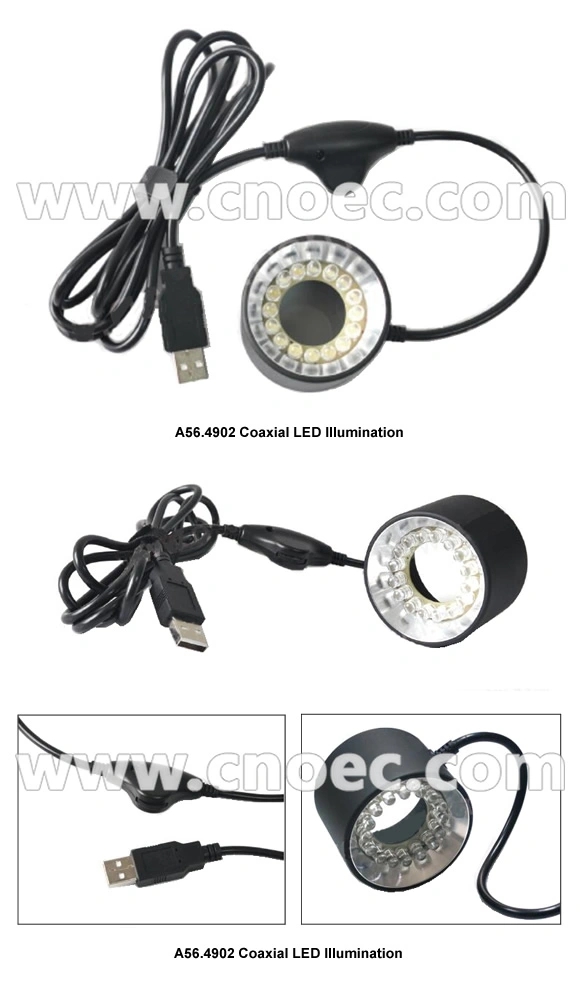 Hardware Configuration

Lamp Power

<3W

Input Voltage

DC 5V
Illumination Adjustment Mode
Linear Adjustment ( 0~100 )
Working Distance
80~230mm
The Brightness On The Center
≥15000LX(Height 100mm)
LED Quantity
16 pcs High Light White Lamp

LED Diameter

5mm
Colour Temperature
5600K

Diameter Of Lens-mount

Max Φ48mm
Power Supply Interface

USB-A Mount

Operating Environment

Operating Temperature
0℃~ 40℃
Storage Temperature
-20℃~ 60℃
Operating Humidity
30~80%RH
Storage Humidity
10~60%RH